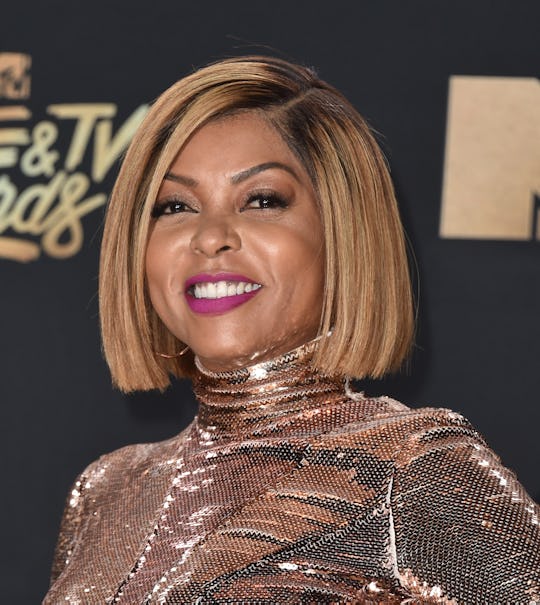 Alberto E. Rodriguez/Getty Images Entertainment/Getty Images
'Hidden Figures' Received A Major Win At The MTV Awards
Hidden Figures walked away with the Best Fight Against the System Award and it was well deserved. And on top of that, Taraji P. Henson's MTV Awards speech for Hidden Figures was unsurprisingly just as inspiring as the film. The film, which was also nominated for an Oscar, told the untold story of a team of African-American female mathematicians who served at NASA during the early years of the United States space program. Unfortunately, Henson was the only one of the "hidden figures" in attendance at the award show, but she made sure to give love to her costars, or "sisters," as she called them, Octavia Spencer and Janelle Monáe.
During her speech, Henson discussed how she, along with Spencer and Monáe, understood that this film was bigger than just them. "We understood that this a part of history that needed to be reimplemented into the blood and pains of American history," she said. Henson then went on to discuss how growing up she always felt like girls weren't supposed to be interested in science and math. How, even though no one would come right out and say it, girls weren't expected to do that sort of thing. Those were "boy" subjects. That's why when she got the script for this movie she knew immediately that it was a story that had to be told and she wanted to be a part of it.
"I remember getting this script and being very upset because I felt a dream was stolen from me," she said. "And it became my mission... to dispel that myth so another young girl would not grow up thinking her mind was incapable of grasping math and science. If it were not for these women, we wouldn't be in space."
Henson then concluded her speech by reminding viewers that the film wasn't just about empowerment but was also about togetherness. Tired of separation and hate in society, Henson made her point very clear. "We're all humans," she said. "God is very clever. He made us all different for a reason and we better figure it out."
Henson's inspiring speech is just another reminder why the film was nominated and why she herself also got a nom for Best Hero and Best Actor for her role in it. Her words, both as characters in our favorite films and TV shows, as well as when she's just being herself, continue to be an inspiration and we hope she continues to shine her light wherever she goes.