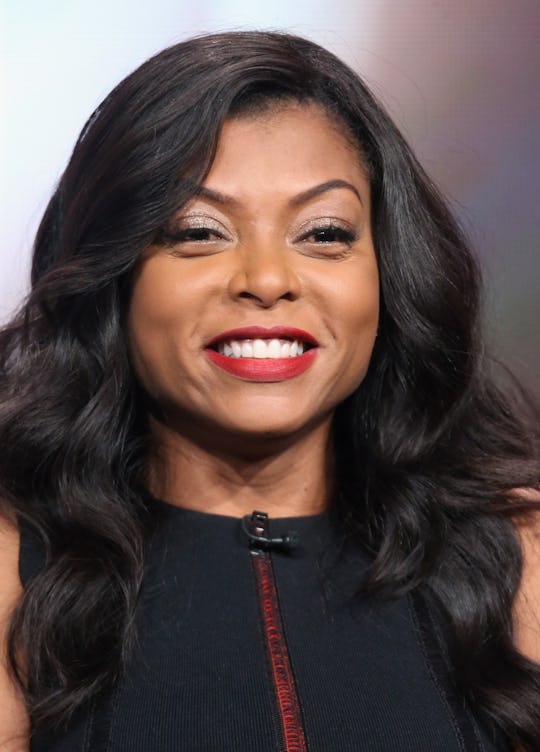 Frederick M. Brown/Getty Images Entertainment/Getty Images
Taraji P. Henson's Parenting Advice Challenges The Tendency To Be Overprotective
In an interview for Redbook's October issue, the actor behind Empire's Cookie Lyon shared her thoughts on motherhood. Any moms afraid that they're not doing enough to protect their kids from difficult realities may want to read Taraji P. Henson's parenting advice; she believes in letting kids learn to solve problems early on.
Henson tackled unbelievable challenges during her ascent to stardom. Raised in southeast Washington D.C., Henson told Elle in January that despite growing up without a lot of money, she was fully committed to being "rich one day." Her career goals translated into academic ambition: North Carolina A&T admitted her as an engineering student, but she ultimately became an actor at Howard University. Henson learned she was pregnant with son Marcel Johnson (now 22) while she was still in school, but she told Glamour that choosing between motherhood and college was never an option:
When I got pregnant in college, people said, 'This is it for her.' But I did not stop. I never missed a class. I was in the school musical when I was six months pregnant—we just made the character pregnant. My mother swears Marcel came out doing the dance; he had learned the choreography. When I graduated, I carried my son across the stage.
Henson ultimately moved with her son to Hollywood, according to Glamour. Though her success may seem like a bit of a fairytale, she put countless grueling hours of hard work into making her dream come true. When asked by Redbook about "the pressure to do it all" as a single mom, Henson openly discussed the reality of raising a son independently: "I think we try to do our best," she said. "And yes, we can do it all, but I wouldn't wish being a single parent on my worst enemy. It is not easy." As someone who met challenges head-on for much of her life, Henson wasn't afraid to let her son do the same. She offered this advice to other parents:
These days we're so busy protecting our kids, when we really should be pulling back the blinds and showing them that we live in a world that's not always fair and moral. Sometimes we try to protect our children so much that when something doesn't go right in their lives, they're unprepared to deal with adversity. I don't think that does our kids any favors.
Henson is now one of the biggest actors in Hollywood, but according to Page Six, she only had $900 in savings when Henson's son's father died. With extraordinary resilience and ambition, she ended up putting Johnson through private school and helping him develop an interest in writing and music. Henson is a testament to the incredible power of every single mom to raise strong children and still make magic happen in their own lives. Her fairytale isn't over, either: as she continues to embody characters on the small and big screens, she's also open to renewed romance in her life. She described her ideal relationship to Redbook:
If I was going to get married, it had to be for love, because I wanted [my son] Marcell to see that real kind of love — the kind I yearn for. That old couple crooked and bent over but still holding hands. I know that kind of love exists and I'm not going to stop until I have that.
Henson's openness about what it takes to be a single mom may help other moms feel not quite so alone, and her story is exceptionally inspiring.