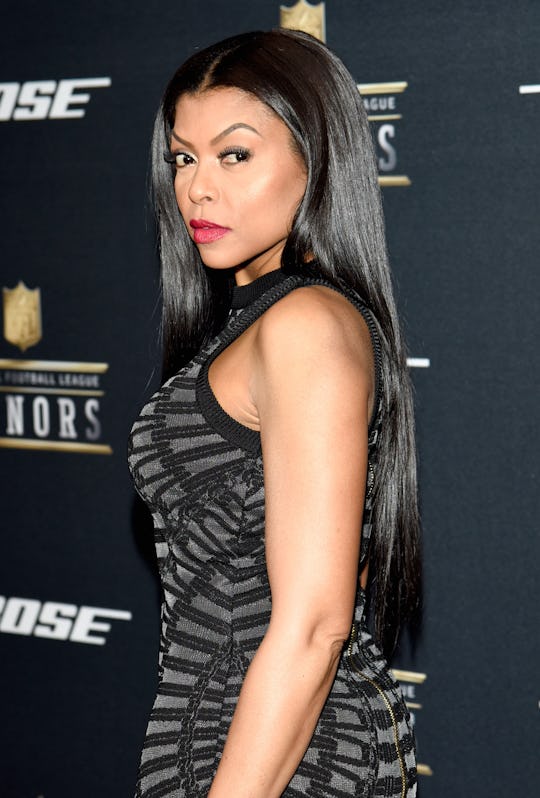 Tim Mosenfelder/Getty
Taraji P. Henson's Tweet About Coldplay Slayed The Super Bowl
As if Beyoncé's Super Bowl Halftime Show performance wasn't enough to bowl you over, another icon gave us a Super Bowl moment that made the already great night that much better. Of course, she wasn't on the stage — instead, watching from the crowd, Taraji P. Henson tweeted about Coldplay, and absolutely slayed in the process.
How did she manage to do so in just 140 characters? During Coldplay's performance — which Beyoncé and Bruno Mars later improved, ahem, I mean, joined — the Empire actress tweeted her excitement for the night's performer, Maroon 5. But wait, it wasn't Maroon 5. It was Coldplay. Of course. But Henson, ever the shrewd actress, knew that.
(Update: Henson since tweeted "Ooooooooppps. Lmao! #Superbowl50" following her tweet — which she deleted — making it seem as though she made an actual mistake misidentifying Coldplay as Maroon 5. But... c'mon.)
In just one tweet, Henson managed to play off of the subtle and inherent racism that's all too ever-present in not only everyday life, but in Hollywood as well. We saw it when the Golden Globes confused Gina Rodriguez for America Ferrara, and when the Los Angeles Times confused Orange Is The New Black's Danielle Brooks for Retta. In fact, the tendency for people to misidentify women of color has become so prevalent, that Ferrera and Eva Longoria mocked the subtle racism at the Golden Globes.
And, here, Henson is doing the exact same thing:
Like I said, slay.
And, in response, the Internet came out in droves to support Henson's necessary, and hilarious, commentary on racial misidentification.
A Super Bowl halftime show that brought us an amazing performance, a Formation World Tour from Beyoncé, and an important discussion on Twitter? Good luck topping that Super Bowl 51.