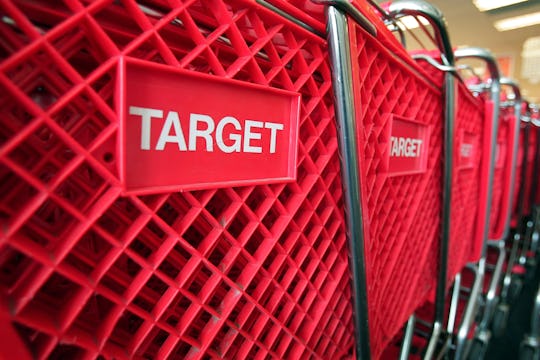 Scott Olson/Getty Images News/Getty Images
Bring Your Old Car Seat Into Target For A Discount
We're well into April, which means we're all well into spring cleaning season too. Spring cleaning is the reason for the season — it's an excuse to purge your closets, strip your home of things you haven't used in years, and exchange those items for improved ones. And you'll definitely want to spring clean ASAP, now that Target is giving a car seat discount to parents who recycle their older models — but be forewarned, the everything-store is only running the promotion for the rest of the month of April.
While you might be lugging that old car seat around to Target every week just to go shopping (hello, dollar section), you now have a reason to bring that same car seat to Target and walk out with a new one for an even more reasonable price tag. Beginning Monday, April 17 — just in time for Tax Day, thank you — and ending on April 30, parents can bring their old car seat into Target stores nationwide and get a discount in return. This is neither a drill nor a late April Fools' joke.
So how does it work, exactly? In exchange for their car seat, according to Scary Mommy, parents will get a 20 percent off coupon from the store, good to use on any car seat from Target until May 31. Because just when you couldn't find another reason to love the store enough, it pulls this amazing deal out of its hat.
But this exchange isn't just Target's way of giving back to parents who've spent far too much time and money in their stores, likely chasing their toddlers at the same time (although it does seem like a nice act of customer appreciation) — it's Target and recycled product company TerraCycle's way of helping the planet, in honor of Earth Month. Through the exchange, according to Target, the department store plans on keeping more than 700,000 pounds of car seat materials out of landfills. Together, Target and TerraCycle will make sure that the car seats are recycled or turned into new car seats — saving the planet and your bank account, one seat at a time.
Target offers over 100 different models and styles of car seats, ranging in price from under 50 dollars to over 300 dollars. This deal can provide parents with the opportunity to upgrade their car seat or finally get their hands on the model they've been saving up for since before their baby's arrival. This is the first time that Target has offered this deal in stores all across the country.
Basically? Thank you, Target, for giving all parents a reason to love you even more than they do already.