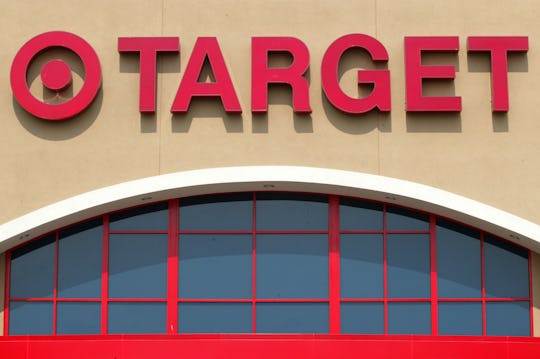 Alex Wong/Getty Images News/Getty Images
OMG Target's Tech Line Is So Cute & Affordable, You'll Want *Everything*
I'm convinced Target has magical powers. I go in there looking for laundry detergent and diapers, and I walk out with new nursery art, sandals, and a cart full of other lovely, though perhaps unnecessary, items that I couldn't resist. And now that Target has launched Heyday, their own electronics brand, I know that I'll be spending even more time there this summer. Hmm, yep, I do need some new wireless headphones!
Heyday, which will be available in stores and online on June 9, features super cute, totally Insta-worthy phone and tablet cases, wireless headphones, Bluetooth speakers and more. The cool tech accessories comes in a variety of styles: iridescent, patterned, and blush-colored hues. Best of all, everything in the line costs less than $60, with most items priced under $20 — or as the Target blog aptly described, "make-you-do-a-double-take prices".
Looking through the Heyday line, I immediately saw its mix-and-match potential. The USB-A cable key chain in rose gold, that comes with an adorable tassel detail and is priced at only $10, would pair nicely with the sweet wireless on-ear headphones in black and gold, remarkably priced at only $60.
I also loved the line's adorable array of iPhone cases, which are reasonably priced between $10-$20. You can get your print on with cactus, gold feathers, and pink marbled, or spring for an iridescent case that comes with a matching power bank for only $25. Some cases are made out of silicone, others from polycarbonate, so you can choose which material will meet your daily wear and tear requirements. I personally love the case in dark floral.
The line also has several Bluetooth speakers to choose from, all small and completely portable. And since they're priced starting at $20, they'd make perfect graduation gifts (hello dorm room!). The small portable Bluetooth speaker has 6 hours of playback time, which I immediately thought would come in handy for summer BBQs and picnics.
Then there's the line's ear bud offerings, which are as functional as they are fun. I love that the wired in-ear headphones ($15) come with a convenient case because I'm always, and I mean always, losing my headphones or getting them impossibly tangled. Now all I have to do is pop them in this cute carrying case and I'll never have to deal with that special moment of trying to fish out my wallet, while holding a toddler, while detangling my ear buds. Thank you Target for thinking of the details!
It turns out, a lot of these little details were crowdsourced. Target did "mountains of research" to find out just what the younger generation of shoppers was looking for, according to their corporate blog:
"We have an opportunity to better connect with younger guests. So we've gone all-in, working with hundreds of teens and young adults across the country to listen, learn and ultimately create new brands that deliver amazing style, quality, value—and that special spark of joy—like only Target can," said Mark Tritton, executive vice president and chief merchandising officer for Target.
In addition to Heyday, Target will be launching two other brands aimed at younger shoppers — Wild Fable, a clothing and accessory line for young women, and Original Use, the store's street-inspired clothing line for young men. Both Wild Fable and Original Use, debuting in stores this August, feature items exclusively $40 and under, and are available in all sizes (size 0 to 26W, and Big & Tall), according to the same Target blog post.
Now that sounds like we all have even more reasons to flock to the air-conditioned aisles of Target this summer. Sorry wallets!