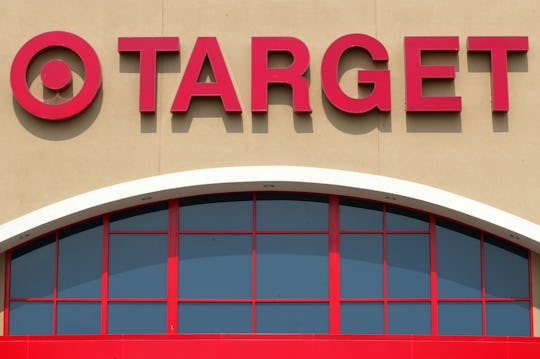 Alex Wong/Getty Images News/Getty Images
Target Gift Cards Will Be 10% Off This Sunday, & I'm Not Crying, You're Crying
In case there was any chance Target would lose its title as Everyone's Favorite Store, they're back this season with their popular Weekend Deals program. They're expected to be around at least through mid-December, but if there is one to take full advantage of, it's happening this weekend, because Target is selling gift cards for 10 percent off. I'm usually pretty weary of sales and I'm a self-proclaimed shopping cynic... but guys, if you shop at Target regularly (and who doesn't?), this deal is basically free money.
For the next few weekends, you'll be able to save a bit of cash on your Target purchases, just in time for all your holiday shopping you'll be doing at Target anyway. "Oh, and if you're wondering why weekends, it's when most guests love to do their Target run," Target explained in their official statement. "Twice as many guests shop Target on Saturdays and Sundays than on an average weekday. Plus, this year we're making it easier than ever to grab those must-haves, with many items available through Order Pickup and Drive Up." Wow... this is just such a Target thing to do. If I can count on one store to have my back, it's that red and white, bullseye wonderland.
Stock up on gift cards to pass out as easy holiday gifts, or load your wallet with them for your future shopping trips. Of course, you don't have to use your savings on gifts for others (and if I'm being truly self-aware, most Target runs result in approximately 17 unplanned gifts for myself). The best part of this weekend's deal is that you can get just about everything you need at Target, and you can save 10 percent on anything from groceries to clothing to toiletries to school supplies. The store has everything. But you already know that.
You can take advantage of this gift card discount this Sunday, December 2 only. Don't worry if you can't make it into your local store – gift cards are available for purchase online, as well. The discount will apply automatically at checkout.
Note that you won't be able to use your new gift cards until Monday, December 3 at 10 a.m. Central Time, so don't plan a same-day shopping spree. The offer is valid for up to $300 in gift cards, and the minimum applicable amount is $10. This offer "does not include Target Visa Gift Cards, Target MasterCard Gift Cards, Target American Express Gift Cards and gift cards issued by other retailers such as dining, lifestyle and entertaining gift cards," per the corporate Target website.
For the rest of the season, Weekend Deals will be announced every Wednesday via A Bullseye View. Considering I already purchase about 95 percent of my Christmas gifts from Target, it's safe to say that I'll be planning my weekend shopping solely around the retailer's weekend promotions from here on out.
This first-time mom wants to have a home birth, but is she ready? Watch how a doula supports a military mom who's determined to have a home birth in Episode One of Romper's Doula Diaries, Season Two, below. Visit Bustle Digital Group's YouTube page for the next three episodes, launching every Monday starting November 26.