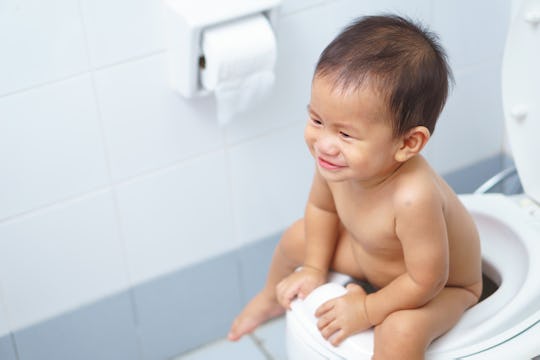 Fotolia
Target Stops Selling Popular Potty Trainers That Allegedly Injured Boys' Genitals
It goes without saying that potty training is hard. The process, overall, is frustrating for both parent and toddler, even if your kid gets the hang of it relatively quickly. But one thing that potty training shouldn't be is physically painful. That's why, as part of a class-action lawsuit settlement, Target has stopped selling two popular potty trainers that allegedly injured multiple boys' genitals.
Target had announced last week that the company pulled the WeePOD Basix and the WeePOD Toilet Trainer Squish from its shelves, two potty training products manufactured by Prince Lionheart Inc., according to Kron 4. The big box retailer agreed to stop selling the WeePOD devices in order to settle its part in a class-action lawsuit that claims boys who've used Prince Lionheart's potty trainers had suffered serious injuries to their penises, Kron 4 reported.
"No one realizes it," John Kristensen, one of the attorneys in the case, said at a news conference in June, when the complaint was filed, according to The Press-Enterprise. "They look nice, they're like $15 bucks. They're comfy, they're squishy, they sit on a toilet seat. You're not going to realize that."
Romper reached out to both Target Corporation and Prince Lionheart for comment, but did not hear back in time for publication. A Target spokesperson, though, did tell The Mercury News back in June:
Target is committed to providing high quality and safe products to our guests, and we require all of our vendors to follow product safety laws and CPSC guidelines for their products that they sell at Target. Prince Lionheart manufactures the product and sells it at a variety of retailers. Prince Lionheart has been in direct communication with the guest's attorneys on this lawsuit, and any additional questions should be directed to them.
Target has stopped selling the WeePOD Basix and the WeePOD Toilet Trainer Squish with manufacturing dates before March 23, 2018, according to The Mercury News. The class-action lawsuit alleges that at least 15 young boys endured "gruesome ripping" and other damages to their genitals after their penises became stuck to the products, which have a built-in pee guard, The Mercury News reported. One boy from Riverside, California, reportedly now has "permanent erectile dysfunction," Kristensen to The Mercury News.
Kristensen told The Press-Enterprise back in June:
It's not the sharp edge, it's the inside that causes a friction. It sticks to the penis like an old leather car seat [if] you're wearing a tank top, it sticks.
He continued, according to The Press-Enterprise:
It's the same mechanisms, and then when you pull it off, the penis is still stuck, the rest of the body is moving. That skin's so sensitive that it rips.
Last year, Prince Lionheart had made some adjustments to the design of the potty trainers so that genitals would not stick, according to Kron 4. But the lawsuit alleges that Target, as well as Prince Lionheart, failed to warn customers who bought the older defective devices about the possible dangers, Kron 4.
At the time, Brad Snyder, the attorney for Prince Lionheart Incorporated, denied the allegations outlined in the lawsuit, telling ABC 7 in a statement:
The Court has issued a protective order that bars the parties and their attorneys from disclosing any information that has been produced during the discovery process. ... For that reason, I am unable to comment about the details of the case. What I can say is that my client is a family-owned company that has been developing products that meet the highest standards in safety, quality, and performance for the past 45 years.
Prince Lionheart has yet to settle its part of the lawsuit, according to Kron 4.