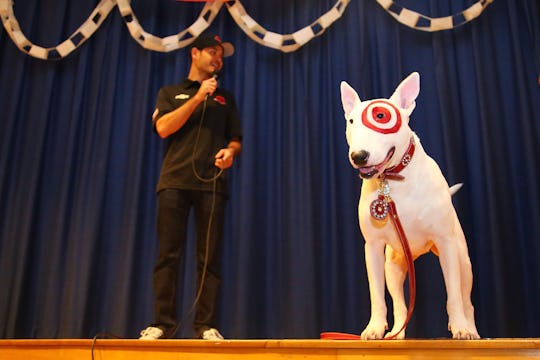 Sarah Crabill/Getty Images Sport/Getty Images
Busy Moms Will Love Target's New Redesign
Let me paint you a (probably all-too familiar) picture: It's a Tuesday morning, you've just dropped the older kids off at school, and you realize you still need to get paper towels, diapers, and eggs. Your toddler is in the back seat, and you recall those good, old days, when you could just run in to the closest Target and browse the aisles to your little heart's content. Now, though, the thought of going into a Target with your 2-year-old is basically pure torture. But you're short on time and options, so you deal with it. Fortunately, there's good news is on the horizon. Because, yes, the rumors are true, Target will redesign some stores in a way that will make busy parents' lives easier.
According to a press release from the company, "the new design offers two entrances, each with a specific guest need in mind. Guests can enter through one entrance to find displays of exclusive brands and inspiring seasonal moments, and the other for easy pick-up of online orders and groceries." So, basically, going to Target won't be as much of a mental exercise anymore, and you'll likely (finally) be able to stick to your list, instead of going in for milk and coming out with everything but, and a screaming toddler.
The new design will take some time to implement, though, and the first store to get updated will be in Houston this fall. After that, the company is expecting to expand upon the new design features, with some "500 stores being reimagined in 2018 and 2019." So, yes, you'll have to wait a while to experience the new Target, but judging by the sketches they released, it'll be totally worth it.
Along with the new entrances and layout, the updated stores will also feature some major upgrades that will take the chain store from mere "discount" shopping location, to a place of ultimate faux-luxury reprieve. New, "glazed, large glass windows at the front of store, stenciled concrete floors and unique lighting throughout," will enhance the store's facade, giving shoppers a more high-end encounter.
Not only will shoppers be able to customize their Target experience based on how much time they want to spend in the store, but "store team members will be equipped with new technology—available in all stores this fall—to search inventory, take payment from a mobile point-of-sale system and arrange delivery, all from the sales floor."
With the separate entrances, sleek, new design, and upgraded technology, Target shoppers are sure to love the company's latest investment, and busy moms everywhere will soon be able to not shiver at the thought of a "quick Target run," because it will finally be a reality.