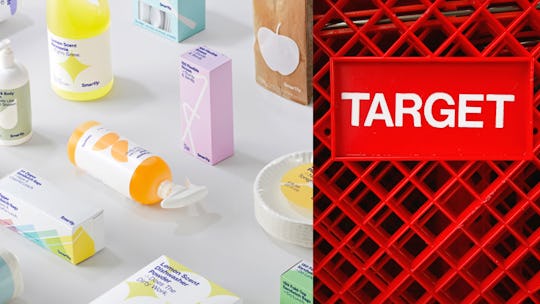 Target, Tim Boyle/Getty Images News/Getty Images
Household Essentials Don't Get Any Cheaper Than Target's Brand New Line Smartly
Target has consistently been the go-to place for affordable everyday items, but now the store with a bullseye is even more wallet-friendly. The launch of Smartly, Target's most affordable store brand ever, marks the beginning of some truly amazing deals. Now you have more reasons to make a Target run than ever before. Honestly, I'm just happy to learn about a line of hand soap that doesn't cost an arm and a leg.
Featuring over 70 everyday items, including cleaners, paper plates, and hand lotion, Smartly will hit Target stores on October 14. Available both in-store and online, these deals feature a jaw-dropping price point. Most Smartly goods are less than $2. Plus, new products will be added to the line throughout early 2019, so there's bound to be a little something for everyone in this line.
Loads of beauty and personal care items will be included with the initial launch, many of which will be available in a variety of scents. SPF 30 sun care, facial cleanser, body wash, body lotion, toothbrushes, and floss are just a few of the products coming out on the Smartly line, as a company rep told Romper. The availability of inexpensive shaving products, including shave foam and razors, is also pretty exciting.
Smartly's debut is just another example of the store's aim to give customers what they want. "The introduction of Smartly to our owned brand portfolio is another example of how we are listening to consumers and bringing them differentiated solutions to make their lives easier," said Mark Tritton, executive vice president and chief merchandising officer for Target. "Smartly is affordable, looks great and most importantly, gets the job done." These will be among the most low-priced options that Target has ever offered, with Smartly products costing about 70 percent less than national brand products, according to A Bullseye View.
Really, the low prices of Smartly's everyday items are difficult to overstate. Target is competing against low-price champions such as Dollar General and Aldi. Smartly's prices not only undercut Walmart's house brand, but also other store brands at Target, according to the Minneapolis/St. Paul Business Journal. Basically, Target is coming for current discount stores in a big way, and consumers just might benefit the most.
Although the store brand's main claim to fame is its low price, Target's signature eye for design is still apparent in Smartly. Featuring a variety of fragrances developed with master perfumers, the products also boast a clean, modern design that will look right at home on any countertop.
Plus, many of the products are offered in small multi-packs. For instance, a four-pack of toilet paper will sell for $1. This gives shoppers the convenience of purchasing necessities at a great value without resorting to bulk purchases. Honestly, it can be tricky to find homes for 50 rolls of toilet paper at once, so it's a good option for consumers who are both space and budget conscious.
As far as how well Smartly's products perform against competitors, well, time will tell after October 14. But with so many products selling for less than $2, plenty of customers will probably be willing to test and see for themselves.