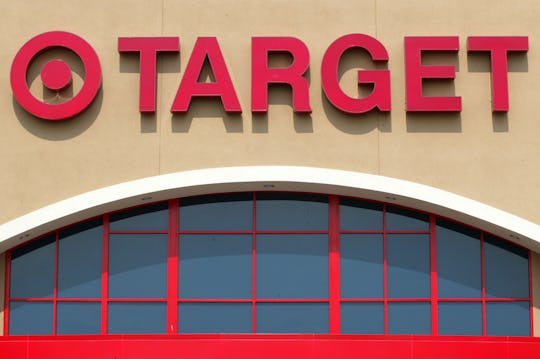 Alex Wong/Getty Images News/Getty Images
Target's Car Seat Trade-In Program Is Back With New & Improved Perks
Let's face it, car seats are expensive as heck, but it's one of those purchases you really feel good about because you know that it has to do with the safety and welfare of your child. However, that doesn't make it easier on your wallet. Thankfully, retail giant Target's car seat trade-in program is back and they're offering more than they ever have before.
This year, between September 9 and September 22, Target will be accepting your old car seats at guest services and handing you a 20 percent off coupon. In years past, this coupon was only good for a new infant, convertible, or booster car seat, but this year, they're making the trade-in bigger and better than ever by including strollers, travel systems, car seat bases, and other select baby items like certain playards, swings, high chairs, and even bouncers and rockers (This is a huge deal, especially for those who aren't in the market for another car seat). Some of these items retail in the hundreds of dollars, so 20 percent off the cost of these items is no small change. If your child has beat up their car seat or sized out of it, there's really no downside to turning it in if you were planning on getting rid of it anyway.
I've probably spent upwards of $1,000 on car seats between my children. The infant seat with the base is near $200, the convertible booster is a bit more, and then your kids go into a less-expensive but still much needed high-back or backless booster. It adds up. If I was able to turn in each used model for a coupon on the next seat or for the pricey playard that doubled as my kids' bassinet, I could've saved easily $200. However, here's the real kicker with this sale: according to target.com, this offer is stackable. That means that if you have a coupon for 10 percent off of a car seat or a high chair, you can use that at the same time you use your 20 percent off trade-in coupon.
Just as an example, say you have your eye on a cute travel system. It's a lovely, top-of-the line model, but you haven't wanted to pull the trigger because it's $380. You're thinking to yourself that it's your second baby, and maybe your last. Can you justify the expense? But, alas, you do have that old infant seat from your five year old that you just found out that it's about to expire. So you trade it in. You get a 20 percent off coupon, and because Target is psychic and knows you're pregnant, you have a 10 percent off select baby items coupon. Using both, it brings the price down to $266.
Holy cow that's like the average price of two Target trips for me. Sold.
Beware the fine print. You must use that coupon before 6 October of this year, which is a small window, but for a deal this good, they're not going to keep it open forever. Much like those $10 Children's Place coupons burning a hole in your wallet, it's a limited time affair. Since Target's Car Seat trade-in program is back, it's worth your while to go through your garage and see what you've inevitably forgotten to put out with the garbage in the event that you're in the market for something baby-related. Or, perhaps you know someone who is expecting. This would be a great time to buy that baby shower gift you keep forgetting to pick up.
And the best part of all of this? According to Target, the seats collected are stripped and properly recycled, which means you're not only getting a huge deal, you're also helping the planet. It's truly a win for everyone.