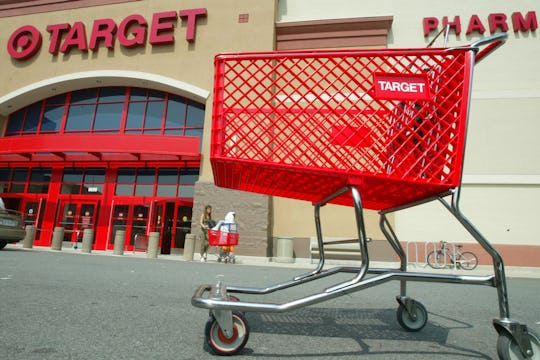 Alex Wong/Getty Images News/Getty Images
Target Now Offers Free 2-Day Shipping & Seriously, Just Take All My Money
Crowded stores with long checkout lines can make shopping a chore, especially around the holiday season. I mean, few things are more irritating than making another loop around the parking lot, only to find no open spots. But Target's new delivery services will make shopping at your favorite store easier than ever. Now you can make a Target run any time, because the store is all about delivery.
The first retailer to offer same-day delivery and drive up services across the US, Target is making some serious bids for holiday business. This ambitious roll-out of new services is all a part of the company's plan to make life a bit easier for its customers. "We want to make the busy holiday season easier for our guests so they can spend more time with their family and friends," said Target CEO Brian Cornell in A Bullseye View. "From same-day delivery with Shipt, Drive Up, Free 2-Day Shipping and more, no other retailer can match the convenient delivery options that Target will offer this season." Basically, the store is making it easier than ever to get what you need as soon as possible. Other retails should watch out, because Target is coming for you with fast free shipping and a ton of other perks.
And for this holiday season in particular, Target is offering free 2-day shipping beginning November 1, as further noted in A Bullseye View. Thousands of items qualify for free shipping, and there's no minimum purchase required. No memberships or yearly fees are needed, either. Not only is great for scoring holiday gifts, but it's also a handy way to restock paper towels or other essentials when you don't have the time or energy for a midweek store run.
But free shipping isn't the only perk. Target's Drive Up service is expanding, and it will be available in almost 1,000 stores by the end of October. To use Target's Drive Up, place an order with the Target app. It will be ready within an hour, and a Target associate will bring it out to the car for you. You just roll up, grab your stuff, and go, without ever stepping foot in the store. Really, it's revolutionary for anyone who's trying to shop with toddlers in tow. Oh, and if you're on foot, the Order Pickup service will let you place and online order and pick it up in the store on the same day. It will likely be ready within an hour, which gives you time to run other errands or chill at a coffee shop for a few minutes.
If you need something fast, like diapers or extra tissues, that's also doable. Next-day delivery is available with Target Restock, which ships household essentials, office supplies, and even home improvement goods to your home for a $3 fee. The service is free for REDcard holders, too.
Lastly, same-day delivery from your Target local store is available for some locations in Boston, Chicago, New York City, San Francisco and Washington, D.C, all for a flat $7 fee. Basically, Target is more amped up than Santa himself when it comes to delivering stuff in a flash.