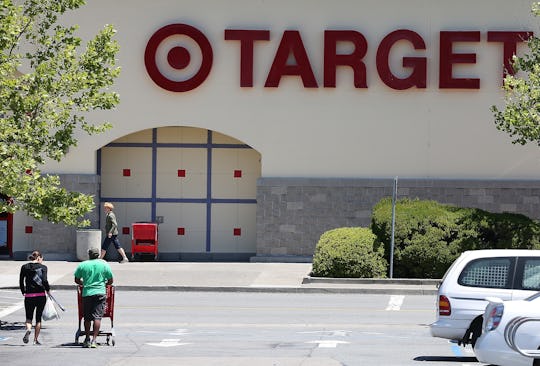 Justin Sullivan/Getty Images News/Getty Images
Moms Are Going To *Love* Target's New Swimsuit Line
For many women, motherhood means undergoing a physical transformation that's not entirely welcome, whether it's stretch marks from pregnancy or a few extra pounds from finishing those cold, leftover dinosaur nuggets every night. But Target's new campaign promise will have every mom feeling a little better in her own skin. This really shouldn't come as a surprise; after all, Target is a mom's best friend, and it's your best friend's job to prop you up when you're feeling low.
The real bummer about mom bod is that in the summer, you can't hide it. Your kids want to go to the pool, the lake, the ocean, or the water park, and you've got to be in there to supervise them, which means putting yourself on display in front on the whole world. That's why they invented those one pieces with skirts, I guess? But this year, moms might not be dreading the pool as much, because Target is promoting its new swim line with models of all shapes and sizes, and the company also promises that no reshaping or airbrushing will go on behind the scenes. Perhaps once moms see that there's no such thing as a perfect body, they'll realize that their bodies aren't as imperfect as they thought.
The retailer is building on the success of last year's campaign, which boasted "suits for every beach body under the sun." And no, that doesn't just mean skirted bottoms and flattening "tummy panels." Whatever your shape, and whatever it takes to make you feel good in it, Target wanted to serve you. From last year's press release:
The premise of the campaign? Living confidently, on one's own terms. We wanted to represent swim in a way that's true-to-life, and traditional retouching just didn't jibe with that idea. We decided to show women's bodies as they are, without reshaping their curves or removing stretchmarks, with the hope of inspiring women to be confident and embrace the beauty of their own bodies.
The release also featured Target's models showing off their favorite suits. Plus-size model and activist Denise Bidot said she preferred the look of a high waisted two-piece, while pro skateboarder Lizzie Armanto shared that felt more confident in halter tops or one pieces, explaining that "it feels better to have a suit on that I know is going to be secure." Nobody should have to wear fashion tape to Six Flags, am I right?
This year, there are even more looks to choose from. In order to "take the stress out of swimsuit season and bring joy back to the beach," the chain is offering more than 1,700 styles, and expanding its assortment of sizes, as well. The sizes now range from extra-small to 3X, and from 6 to 26. You can even shop by bra size, anywhere from 32A to 40DDD.
Target is offering five separate lines of swimsuits to cater to every style: Modern Minimalist, which features solid colors and "unfussy prints;" Boho, with '70s-style prints and crochet details; Heartbreaker, a lingerie-inspired line (ooh la la); Americana, with fun textures and color blocking; and Tropical, with bright, bold prints.
In addition to the standard one-pieces, two-pieces, and tankinis, the line also features "slimming and control" designs for those who don't mind swimming in Spanx, and cover ups for when you've had just about enough body positivity for one day, thank you very much. Target swim pieces range in price from $14.99 to $49.99, and since this is Target, most items are less than $24.99. Best of all, right now they're all on sale, buy one, get one 50 percent off, and online shipping and returns are free. What are you waiting for? Get shopping!