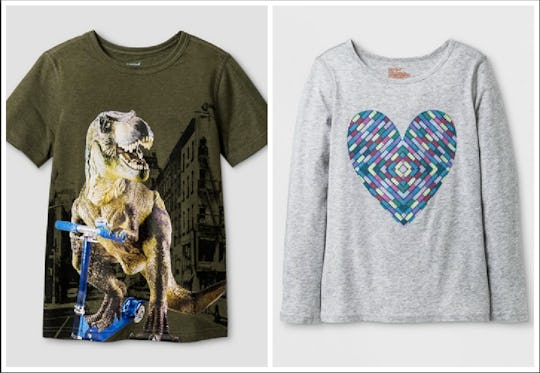 Target
Target Unveils Sensory-Friendly Clothing Line Just In Time For Back-To-School Shopping
For parents of kids with autism or sensory-processing sensitivities, shopping for back-to-school clothes can be a stressful experience. Some affected children don't like certain textures, while others are bothered by the feeling of seams, zippers, or tags against their skin, possibly turning a simple shirt-buying experience into a nightmare. That's why Target's new sensory-friendly clothing for kids, which were released online earlier this week, are garnering all sorts of praise from parents.
The new pieces are part of Cat & Jack's line of kids' clothing for Target, and they nail all of the necessary criteria for sensory-friendly clothing. Rather than having tags, they have heat-transferred labels, and they've been created with flat seams and zero embellishments. Leggings were also created to be more comfortable around the hips and to fit diapers even on sizes created for older children.
The decision to create sensory-friendly clothing came from a Target employee's own need for them: "I have a 7-year-old daughter, Elinor, who has autism," Stacey Monsen, a Target designer, said on the company's corporate blog. She explained:
She's not potty-trained, which means finding clothes that fit is a challenge. For pants or shorts, I either size way up, or buy pieces that are all function, no style. I've met lots of other parents who face similar challenges, including many of our guests and team members. After talking with some of my internal design colleagues I thought, why not create pieces that address some of these problems?
Friendly Hearts Printed Long Sleeve T-shirt, $7, Target; Dino City Graphic Short Sleeve T-shirt, $6, Target
Target's introduction of sensory-friendly clothing seems to be a part of a growing awareness of autism- and sensory-friendly needs. In 2015, for instance, AMC theaters expanded its number of sensory-friendly film screenings. And certain supermarkets and shops — including Coles, Target, and JC Penney — have begun launching programs that give autistic shoppers "quiet hours" in which to do their shopping. There are even sensory-friendly dance performances and play rooms for kids parents can explore.
Target isn't planning on stopping with sensory-friendly pieces, either. According to the corporation's blog, later this year, they will be introducing children's clothing that take different kinds of disabilities into consideration. As Julie Guggemos, senior vice president of product design and development at Target, explained on the company's blog:
Introducing sensory-friendly pieces is the first step — this fall, we'll add adaptive pieces to help address the needs of children living with disabilities. This could include styles with zip-off sleeves and side openings that make dressing easier, and pieces that open in the back for those lying down or sitting.
Here's a huge hat tip to Target for putting kids' needs at the forefront. To shop Target's sensory-friendly kids' line, check out the full collection online.