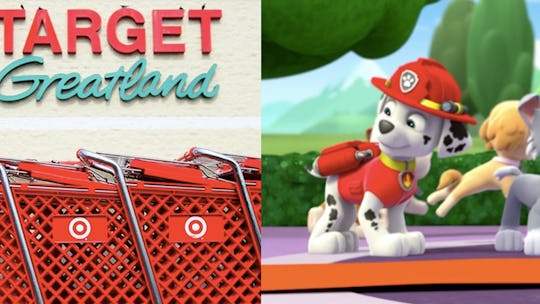 Nick Jr./ Justin Sullivan/Getty Images News/Getty Images
ATTN: Target's 'PAW Patrol' Trick-Or-Treating Event Is Happening THIS Weekend
Little kids love PAW Patrol just as much as their parents love shopping at Target. There is something about the Nick Jr. show that just entertains kids for hours, and Target also has that entrancing quality. So, both parents and kids will be delighted to know that Target's PAW Patrol trick-or-treating event is happening this Saturday, so go ahead and scrap any weekend plans you may have had.
Some kids might find TV shows to be a bit more entertaining than their parent's weekend runs to Target. But this weekend, a special event taking place in stores all across the nation will make your family's Target trips just so much more enjoyable. In honor of Halloween, Target stores will be hosting a trick-or-treating event on Saturday, Oct. 27 from 10 a.m. to 1 p.m., according to PopSugar.
Kids are encouraged to wear their Halloween costumes (or just get dressed in some fun manner) to Target on Saturday to get candy (for free!) at multiple stops in the store. In addition to getting some sweet treats, kids will also be able to watch a new episode of PAW Patrol, and participate in giveaways for PAW Patrol-themed merch.
This event is just like trick-or-treating in your neighborhood, but in a cozier, well lit, and warmer space full of Target's many, many goodies.
The best thing is, this event is going to be held at nearly all Target stores. You can check if your store is participating online on Target's website.
If moms were looking for a good excuse to go to Target this weekend, this event is it. Kids can enjoy picking up candy and watching a new episode of PAW Patrol while parents can stock up on towels and tooth paste, or honestly whatever you need... because Target. To sweeten this deal even more, PAW Patrol products are on sale for 15 percent off on Saturday (and this includes their signature Halloween costumes). What's not to love?
There is a reason why PAW Patrol is a hit with parents and kids. Parents, for instance, like that it's simple, non-violent, and gentle, according to The Globe and Mail. And each of the talking dogs on the show, with their skills for problem solving, unique personalities, and knack for adventure certainly appeal to little kids. In fact, it's been super popular with the youngest generation for the past five years, especially with those as young as 3 years old, according to Common Sense Media.
Dr. Tovah Klein, the director of the Barnard College Center for Toddler Development and author of How Toddlers Thrive explained the appeal of the show to Romper in April:
The lead character is a child, but he is a "big kid" and that represents a bigger, adult world. The puppies are the small world and they are given responsibility to solve the problem, usually a big problem. That is where the excitement comes in. The children may be small but they can do big things, just like the pups.
There is just as much reasoning behind why adults are so obsessed with Target. For starters, parents view the store as a place to escape from their busy/ chaotic day-to-day lives and to-do lists, according to HuffPost, which is just nice to do every once in a while.
So, on Saturday, both parents and their kids can be rewarded with Target's PAW Patrol trick-or-treating event. It's really the best of both worlds.