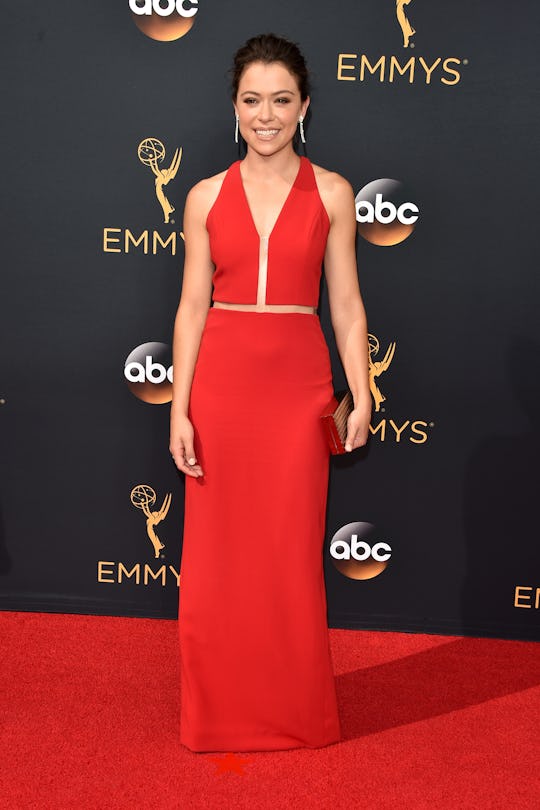 John Shearer/Getty
Tatiana Maslany Finally Won At The 2016 Emmys & Fans Are Beyond Thrilled
Orphan Black is an often overlooked show carried almost entirely by the unbelievably talented Tatiana Maslany, who plays seven different roles at once. After years of being nominated but somehow not winning, Tatiana Maslany finally won at the 2016 Emmys, and everyone is beyond thrilled that she's finally getting the recognition she deserves.
Since its very first season in 2013, Orphan Black instantly became a cult hit and everyone was particularly blown away by relatively unknown actress, Maslany, who played several vastly different characters, clones of each other, at once. She was snubbed in 2013, was nominated but didn't win in 2014 and then snubbed again in 2015. When the actress received her nomination for 2016, every die-hard fan of the series was solemnly preparing themselves for another disappointment. So imagine their joy when, at the 2016 Emmys, Maslany won the award in an upset victory over the likes of Taraji P. Henson, Viola Davis, and Keri Russell, who are all excellent and deserving actresses. Needless to say, the crowd went wild.
In accepting her award, even Maslany looked a little stunned, referring to her phone and muttering, "I should have written this down." Eventually she composed herself and said, "I'm so lucky to be on a show that puts women at the center," at which point I may have shed a little feminist tear of joy. Fellow members of the "clone club," what fans of the show call themselves, were just as overjoyed. ‌
Fans of the show have long been disappointed by the Emmys continually snubbing Maslany, who performance as seven vastly different women interacting with one another perfectly has been praised by critics and viewers alike. For example, from The Guardian:
Delivering one creditable performance for a show is tough enough, but Maslany nails several here, often appearing in scenes as multiple versions interacting seamlessly. This is Olympic-level, endurance acting.
Perhaps the only person who was never angered by her lack of an Emmy win was Maslany herself, who said in an interview with Variety:
The category for female performances right now is so strong and what's happening in television is so exciting, I didn't feel like I'd been snubbed. But it's so nice that people cared about it like that, and to know that the fans were upset. But by no means was it my intention to be nominated for something.
Maslany may feel demurely gratified and humbled by her win, but the rest of us will be over here cheering a highly deserved win that was very long coming.