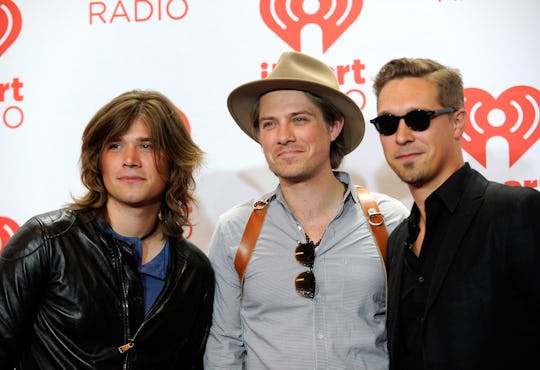 David Becker/Getty Images Entertainment/Getty Images
Taylor Hanson Is About To Be A Dad Again & Announced The News With The Sweetest Photo
No one can forget the Hanson brothers — Isaac, Taylor, and Zac — who took the world by storm in 1997 with their hit song, "MMMBop." But now, 21 years later, there is a new Hanson family worth getting familiar with — Taylor Hanson's growing brood. On Tuesday, Taylor Hanson and his wife, Natalie, announced baby number six is on the way with the sweetest reveal shared on Instagram.
Taylor and Natalie announced their news in the most simple and stylish way ever — through a photo shoot, shared to Instagram. In the photo, their five children can be seen walking with their dog in a field wearing some super cool and unique outfits, all while their parents — Taylor and Natalie — walk alongside of them. All five of the children (as well as Taylor and Natalie) look like they belong in a band of their own.
Taylor took to the caption of the photo to share the very exciting news that he and Natalie are expecting their sixth child together, according to People. "Whats better being than a dad of five?" Hanson asked on Instagram. "Perhaps being a dad of six. Baby Hanson coming in December and we are over the moon."
Based on everyone's expressions, you can tell they're pretty excited for the family's new addition to arrive in just a few months!
In the photo, Natalie's pregnancy bump can be detected in her polkadot dress and she looks absolutely stunning. Taylor's fans seemed to agree, taking to the comments of the photo to share their well wishes for the family.
"Congrats!!!" one fan wrote. "The more Hansons in the world, the better."
"Your kids are all so cute!" another added.
"What a crew!" yet another exclaimed.
And all of those commenters are so right. But it's not that hard to believe that a beloved teen pop idol from the '90s — especially one like Taylor who sang lead vocals in Hanson — would have such an adorable family. I mean, there was a reason why so many teen girls had his photo on their bedroom walls in the mid-'90s.
Natalie, who runs the blog, Nat On The Wall, took to her website after the big announcement was made to talk about her soon-to-be-new-addition with her readers. Natalie wrote:
Taylor and I and all the children are so excited about the new family member coming this December! More than ever I realize how time flies and every moment with these people counts.
In her blog post, Natalie also revealed that Hanson will be going on tour this fall — along with their whole entire family — 15-year-old Jordan Erza, 13-year-old Penny, 11-year-old River, 9-year-old Viggo, and 5-year-old Willa (including Natalie and her bump) will be joining Zac on the road, according to People. This means that Natalie will be homeschooling her kids on the road (in what she calls #roadschool) while pregnant. But given how many pregnancies she has had — and that she has been homeschooling her kids for quite some time, according to Tulsa Kids — it seems as if this mama is more than capable of handling it.
But once the baby arrives, their child might not be impressed with Taylor's iconic boy band (turned rockstar) status — just like how his older kids are. Last year, Taylor told TODAY that his kids aren't affected by his fame. "They know what we do is different, but it's not different in the sense that we are 'kind of a big deal' different," Taylor said.
But that doesn't mean that his newest addition won't take after Taylor's "different" career. Taylor told TODAY last year that all of his kids were "learning to play instruments." And if his kids are anywhere near as talented as Taylor and his brothers, then they're set for life.
Rest assured, the new addition to the family will probably fit right in when they arrive at the end of 2018. I mean, just look at how happy the family is together.