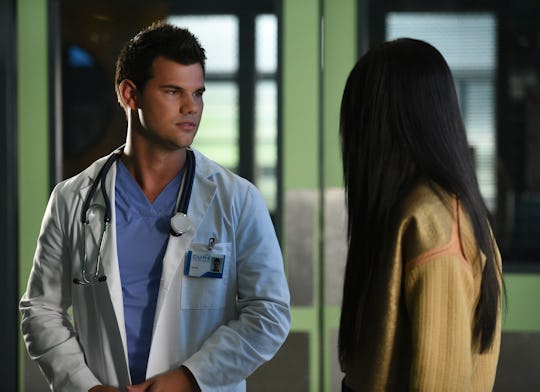 Michael Becker/Fox
Taylor Lautner's 'Twilight' Joke On 'Scream Queens' Was So Subtle You May Have Missed It
For better or worse, Taylor Lautner is best remembered for playing Bella Swan's B-list boyfriend in Twilight, a hot-blooded werewolf of sorts. In the Season 2 premiere of Scream Queens, he plays a hot young doctor treating an unrecognizable Cecily Strong as a werewolf. And his skin runs cold. Ice cold. Taylor Lautner's Twilight joke on Scream Queens was subtle genius.
When she brushed his arm, Zayday remarked how cold Lautner, as Dr. Cassidy Cascade, was to the touch. "I run cold," he said. "My grandma runs cold," Zayday responded. "You feel like a block of ice." Lautner then delivered this line, with breathtaking seriousness "I envy ice. At least if you give it warmth, it melts." This may actually be the very best Twilight spoof/joke ever done, and it is one hundred percent the reason I love this show. Lautner's Edward Cullen impression, once you spotted it, continued throughout the rest of the episode, and I love every minute of it. From his long, pseudo-nihilistic monologues, lingering stares, and the much anticipated line, "I'm basically female Viagara," Lautner's ironic take on the famous vampire was it's best iteration ever (no offense, Robert Pattinson). And could it be a possible plot point?
This season of Scream Queens takes the ladies out of the sorority house and into a hospital, perhaps an even eerier locale than Kappa Kappa Tau. Of course, the Chanels are back, as are Dean Munsch and Hester, who appears to have been incarcerated just as the girls were released due to an award-winning Netflix series, in a reference to the incredibly well-received Making a Murderer. Hester was caught confessing on camera in a video that looks an awful lot like Brendan Dassey's.
I don't think that Lautner's character will turn out to be a literal vampire, though it would explain how he's already a doctor even though he looks like he should still be in high school. I can't wait to see what sort of bizarre horror movie ailment will explain his cold skin. And I can't wait to see if he survives the new devil haunting Season 2.