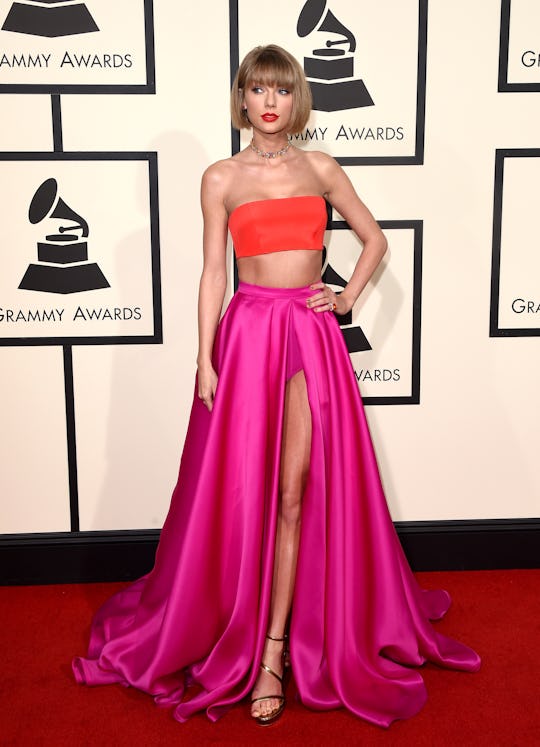 Jason Merritt/Getty Images
Taylor Swift Dressed Like '10 Things I Hate About You's Bianca At The Grammys
Taylor Swift cleaned up at the Grammys on Monday night with wins for Best Pop Album and Best Music Video for "Bad Blood" — and that was even before the actual live show got underway. But it was her outfit that had Twitter buzzing when she stepped out on the red carpet. Taylor Swift dressed just like Bianca from 10 Things I Hate About You for the Grammys this year, and Twitter had lots to say. (Obviously.)
If Taylor Swift does one thing well, it's rock a crop top. Her red top paired with the pink skirt was perfectly on trend. But it's also basically the same outfit that Bianca wore to prom in everyone's (or at least some of us) favorite teen rom-com.
Twitter totally agreed. One fan was quick to make the connection tweeting, "can you ever just be whelmed?" Another was happy to see Taylor knows her '90s movies, too, writing, "Taylor serving Bianca Stratford prom dress realness I'M ALIVE!!!"
But it's not just Bianca Taylor was channeling with this look: Emma Stone rocked a similar combo on the red carpet for the 2014 Met Gala and got herself on all sorts of best dressed lists. Although Taylor killed it in the look, more fans are into teasing her about the inspo for the outfit than congratulating on her style, which is kind of messed up, but the Internet does what the Internet does. I, for one, am absolutely in favor of Taylor's look.
But because you need to see the side-by-side, here it is:
Jason Merritt/Getty Images for NARAS
And here's how Twitter handled her arrival:
Everyone was ready with a good joke about her look:
Even if it's not the most original dress of the night, Swift manages to always wow on the red carpet. Last year, she had everyone talking in a teal Elie Saab dress. Swift walked the carpet with bestie Selena Gomez (duh) who was wearing a strappy, sparkly Calvin Klein dress. Although Taylor was channeling '90s prom, it looks like Gomez's look will be every high school senior's dream dress for their own prom this year.
If you're really asking yourself who wore it better between Bianca and Taylor, it's definitely Taylor. She always manages to keep it classy on the red carpet. So hate on, haters.