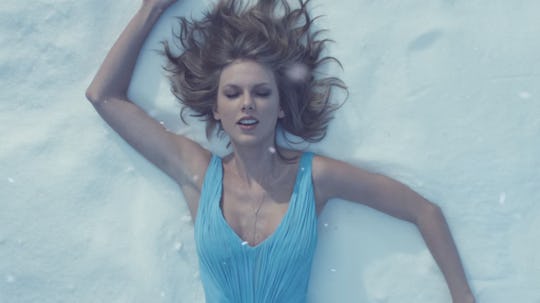 Taylor Swift Drops "Out Of The Woods" Video During 'Dick Clark's New Year's Rockin' Eve' & It Has A Feminist Message For 2016
Though we think of fireworks and champagne when talking about New Year's, thanks to TV, the night is also chock-full of performances from our favorite artists. But New Year's Eve 2015 was particular spectacular on the musical front, given that Taylor Swift dropped the music video for "Out of the Woods" during Dick Clark's Rockin' New Year's Eve With Ryan Seacrest. And as expected, it did not disappoint.
After an amazing 2015 in which she pulled off a 1989 world tour that featured endless famous BFFs, racked up awards, and won Instagram, the singer seems poised to start out 2016 on a high note. It's actually not too unorthodox for a major artist to use New Year's Eve as an occasion to drop music. USA Today points out that Kanye West, who Swift has some, err, history with, also debuted a video, "Only One," to ring in the New Year in 2015.
In case you are keeping count, this is the sixth music video from the '1989' album. And she has totally used primetime TV before to make a splash. In May, the Swift premiered the "Bad Blood" video at the Billboard Music Awards. And given that it featured Zendaya, Selena Gomez, Lena Dunham, Karlie Kloss, Kendrick Lamar, and many more stars performing various martial arts feats, it more than delivered.
Just a few months later, T-Swift struck again with her "Wildest Dreams" video. On Aug. 23 she tweted, "Wildest Dreams music video preview. Full video debuts VMA night. Get ready." The preview was full of cinematic shots and bad weather, but it paled in comparison to the full version. Sure enough, Swift dropped the "Wildest Dreams" during the 2015 VMAs, and it was pretty great.
In the last two weeks, Swift started teasing the "Out of the Woods" video, first on Dec. 22, then again on the 30th.
And now it's here. Directed by Joseph Kahn, who also did the videos for "Blank Space," "Bad Blood," and "Wildest Dreams," the "Out of the Woods" video features Swift alternately walking through a forest surrounded by vines and wolves closing in on her; strolling a beach; crossing a snowy mountain ridge barefoot; and crawling through a bog in the rain. (She was dropped on some desiccated ground at one point, too.) Through most of the video she wears a gorgeous blue dress that the wolves pull at. The whole thing has a gothic, fairy-tale feel that complements the woods theme nicely. And then, the best part: The video ends with the words,
"She lost him.
But she found herself.
And somehow that was everything."
Not a bad message to start out 2016.
Image: TaylorSwiftVevo/Youtube