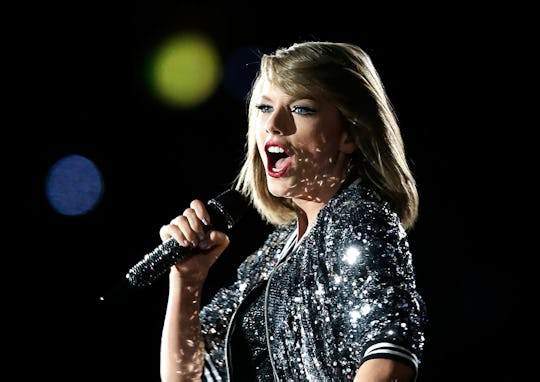 Mark Metcalfe/Getty Images Entertainment/Getty Images
Taylor Swift Just Made A Huge Donation To Help Sexual Assault Survivors
As you probably already know, Taylor Swift was recently involved in a lawsuit concerning sexual assault. Here's what happened: Swift accused a former radio DJ of groping her at a backstage meet and greet. While the singer wanted to keep the ordeal quiet, the DJ then reportedly got fired for his misbehavior, and decided to sue Swift for defamation. It was only then that Swift decided to countersue the DJ, with both lawsuits going head-to-head in court last week. And while Swift has officially won her case, she isn't done taking a stand. Yes, what Swift is doing to help sexual assault survivors is honestly worth talking about.
After Swift won her sexual assault trial, the singer and philanthropist made a promise that she would "be making donations in the near future to multiple organizations that help sexual assault victims defend themselves." And now, Swift is making good on that promise.
In fact, Swift's friend, actress Mariska Hargitay, is the founder of The Joyful Heart Foundation, which she started back in 2004, and will be one of the first to receive a donation from Swift. Speaking to HuffPost, Hargitay described the foundation as "a national organization with the mission to transform society's response to sexual assault, domestic violence and child abuse." And hopefully, with Swift's donation, The Joyful Heart Foundation will be able to to continue to do just that.
The Joyful Heart Foundation's CEO, Maile M. Zambuto, also spoke to HuffPost, and confirmed Swift's donation, although she could not disclose just how much money Swift would be donating. Zambuto did, however, explain that it was an "extremely generous financial investment."
And while some have criticized Swift in the past for not using her platform to speak out as much as she could for such causes, Swift's entire trial proves all those haters wrong. According to ABC News, Zambuto said:
I think it was really important to see someone like Taylor to stand up to her abuser so publicly because there's so much secrecy and shame associated with sexual assault. Taylor had a choice to do this quietly ― to risk less ― and instead, she took this path as a survivor and as a symbol of strength and a source for so many survivors who feel really alone.
It's important to remember that it wasn't Swift's first choice to have to sit in a courtroom and face her assailant while a jury decided whether she was telling the truth. But she did it. And now, she's stepping up onto her platform and using her fame for good.
While it's unclear what other organizations Swift might be donating to following her trial, it remains that Swift truly is dedicated to helping sexual assault survivors and is a champion for the cause.