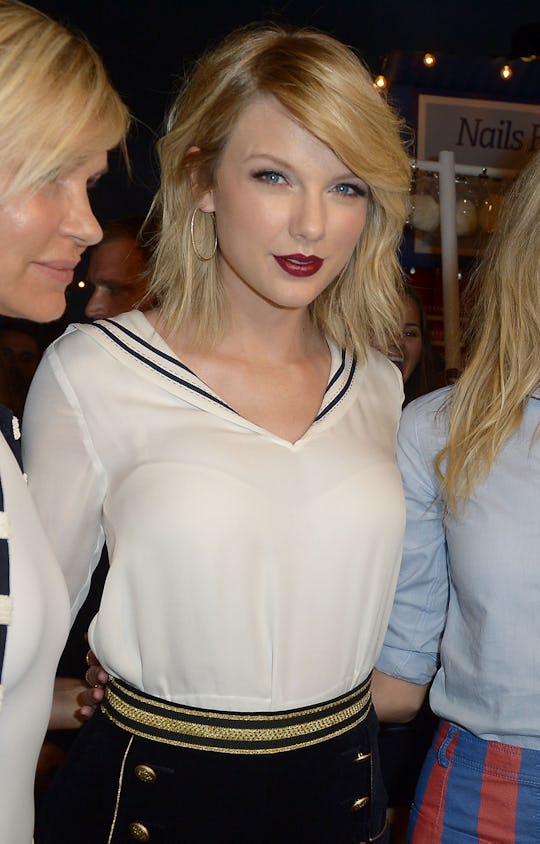 Gustavo Caballero/Getty
Taylor Swift Had The Perfect Accessory For Her 'SNL' Performance
In the past year or so, you may have noticed that Taylor Swift has been closely associated with a certain reptile. I believe it started with her Kim Kardashian beef, when Kardashian started referring to her as a snake. But Swift, being who she is, co-opted the snake imagery and now it has been all over the promotional materials for her new album. In fact, Taylor Swift performed with a snake microphone on SNL and the internet couldn't handle it.
By now, it's become pretty clear that Swift is pretty good at turning gossip about her on its head. Someone talks about how she has too many ex-boyfriends? She'll make a cheeky reference to it in one of her songs like the lyrics to "Shake it Off" which go, "I go on too many dates, but I can't make them stay. At least that's what people say." When she released the video for her first single off of her new album, "Look What You Made Me Do," was chock full of references to gossip about her, including dancing cats, various "Old Taylors" and literal snakes serving tea. Before her album Reputation came out, she deleted everything on her social media and replaced it with a grainy snake video.
Just a day after Reputation dropped, Swift performed on Saturday Night Live. She wore a great little black outfit, and sang into a mic decorated by a sparkly pink snake. Oh yes, she is definitely out to reclaim the snake. Before long, I wouldn't be surprised if teens were using snake emojis to tell each other how awesome they are. So Twitter obviously lost it a little bit when Swift came out with her microphone.
For a little more background on why this was such a thing for people, I should probably go a little bit into the history of Swift and the Snake, which sounds like a fairytale for the modern age if ever there was one.
The drama began following Swift's very public breakup with DJ and musician Calvin Harris. Harris went on a bizarre Twitter rant to rival anything Donald Trump has ever done, accusing Swift and her team of trying to tear him down once it was revealed that Swift helped write his hit song with Rihanna, "This Is What You Came For." Fans of Harris began calling Swift a snake on social media in response, in particular commenting on her accounts with the snake emoji.
Kim Kardashian West took it a step further. During the drama surrounding Kanye West's controversial lyric in his song "Famous" — you know, the one where he says he and Taylor might still have sex because he "made that b*tch famous" — Swift denounced the song as misogynistic. In defense of her husband, Kardashian released a voicemail recording on her Snapchat in which Swift seems to sign off on the line. And then the snake emojis really took off on Swift's social media accounts, particularly on Instagram.
Swift initially tried to distance herself from the snake, but it looks like these days she has come back to embrace the imagery whole-heartedly. Not only has she been using a snake to promote her album, but they keep popping up in other ways as well, like a snake microphone at a Saturday Night Live performance. Swift seems to have realized an essential truth that all celebrities would do well to remember. You can't stop people from talking about you, but what you can do is take over the conversation. And quite honestly, nobody does this better than Taylor Swift. Long live the Queen of Snakes.
Check out Romper's new video series, Romper's Doula Diaries:
Watch full episodes of Romper's Doula Diaries on Facebook Watch.