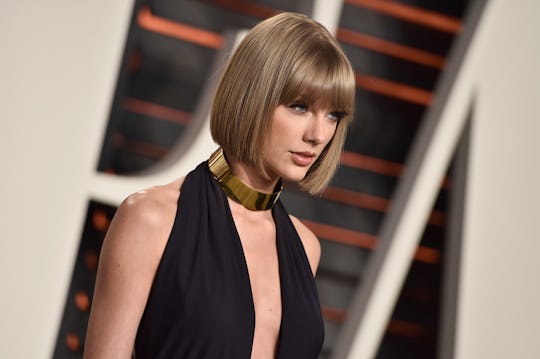 Pascal Le Segretain/Getty Images Entertainment/Getty Images
Taylor Swift 'Reputation' Memes Show Fans Have Lost Their Damn Minds Over This Album
The day Swifties everywhere have been waiting for has finally arrived: Taylor Swift released her new album, Reputation, on Friday, and unsurprisingly, fans are losing their minds about it. It's not the first glimpse the public has received — the singer has already released a few singles — but given that Reputation is meant to reflect Swift's new IDGAF attitude to the backlash she's faced in recent years, finally getting to hear the whole album feels like a pretty big deal. And just in case there was any doubt, the Taylor Swift Reputation memes all over social media Friday prove that, once again, the star is pretty much totally dominating.
When Swift released her first single from Reputation back in August, the social media reaction was a bit mixed — not everyone was on board with the fact that she was taking another dig at her feud with Kanye West, or with her claim that "the old Taylor" was dead. But judging by the seemingly endless stream of Reputation tweets trending on Twitter Friday, if Swift was ever even slightly worried that she wouldn't reassume her rightful position as Queen of Everything, she definitely didn't have to be.
First, there were the tweets from fans who were losing it with anticipation over the any-minute-now release:
Then, naturally, the "OMG it's finally here" reactions:
Followed by the inevitable slew of memes reacting to the fact that Reputation is absolute gold, and Taylor Swift should forever be entitled to our undying love an unyielding admiration:
Many fans had plenty of theories about who or what the songs were about. And of course, they also made it pretty clear that, no matter what, they were totally #TeamTaylor all the way:
Not all fans were rejoicing, however. According to TIME, Swift has decided not to release Reputation on streaming services, instead making it available only as a physical CD, or as a full album release on iTunes. It's likely that the album will be streamed eventually — maybe in about a week, according to Bloomberg — and although that might totally suck for people eagerly waiting to hear Reputation on Spotify or Apple Music, it's not entirely surprising.
After all, Swift did pull her catalogue from Spotify at one point, according to TIME, arguing that it lessened the value of artists' work. And she's also spoken out against Apple Music in the past, taking the streaming service to task for attempting to not pay artists for the first three months. But it also makes good sense from a sales perspective too: holding off on streaming usually means more people will end up specifically buying the album itself, which means better performance on the charts.
But the fact that Swift bestie Ed Sheeran made a surprise appearance on the album may have at least in part made up for it:
One aspect of the social media Reputation frenzy that may not have been expected however? The fact that the most prominent trending hashtag linked to the album was actually, uh, spelled incorrectly.
Instead of #Reputation, the hashtag that really took off was actually #Repuation. That's kind of hilarious, but also, knowing Swift and her legion of fans, is probably really some kind of elaborately pre-planned code with a secret meaning you can only truly understand if you listen to the album backwards while standing on your head when the clock strikes midnight.
Wrong spelling or not though, one thing seems pretty clear now that her new album has finally dropped: Swift is definitely back in a big way thanks to Reputation. And, as always, her fans couldn't possibly be happier about it.