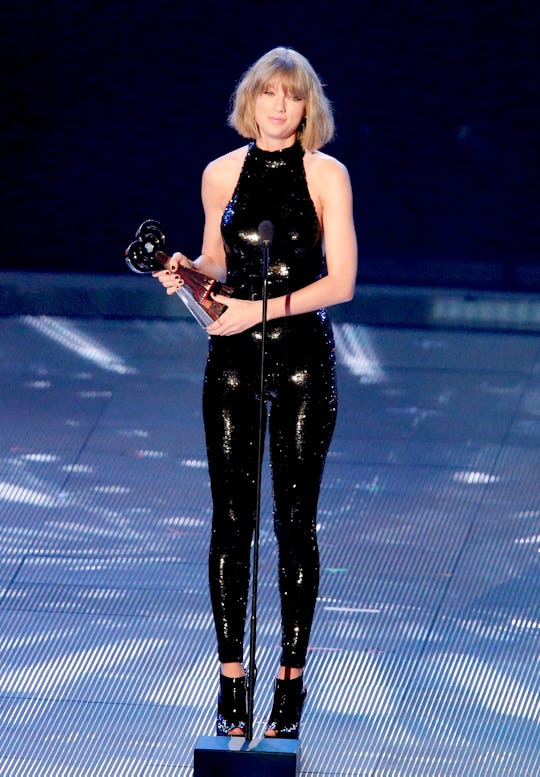 Rich Polk/Getty Images Entertainment/Getty Images
Taylor Swift Thanked Calvin Harris In Her Recent iHeartRadio Acceptance Speech — Awkward
Nooooooo! Better break out The Notebook and a pint of Haagen-Daaz because one of your favorite couples have split. People reported Wednesday multiple sources confirming that Taylor Swift and Calvin Harris have broken up. It comes as a shock to fans of the pairing, who have celebrated their one-year anniversary on a tropical beach together in March. The couple has pretty much stayed clear of press during their relationship but there have been the occasional Instagram shots and shoutouts during interviews. Taylor Swift even thanked Harris during her 2016 iHeartRadio Music Awards acceptance speech, making this break-up even more awkward.
When Swift went up stage to receive the award for Best Tour for her 1989 concert series at the iHeartRadio Music Awards, she thanked her boyfriend alongside her fans and celebrity friends. "For the first time I had the most amazing person to come home to when the spotlight went out and the crowds were all gone," the "Shake It Off" singer said. "So I want to thank my boyfriend Adam [Harris's real name] for that." It was a rare public gesture for the normally tight-lipped star. One that signified, to many fans, that their relationship was serious.
But now, according to multiple sources, the twosome have parted ways. An insider told People that the Swift/Harris break up wasn't contentious. "There was no drama," they said. "Things just don't work out sometimes." Another source told Us Weekly, "It just wasn't working anymore."
"This all happened last week," a source told E! News. "Taylor and Adam had no big blowout fight, but the romance just was not there anymore for them." Harris was the one who eventually called it quits, E! News' source revealed. "It was all done in a very mature fashion."
Just this April, the Grammy-winning songstress gushed about her "magical relationship" in an interview with Vogue. "I'm just taking things as they come…Of course I want [the relationship] to be ours, and low key," the singer dished. "This is the one thing that's been mind about my personal life."
The 26-year-old has had a rough time of it when it comes to dating in the public eye. "You know," Swift told Vogue, "I went out on a normal amount of dates in my early 20s, and I got absolutely slaughtered for it." After many high profile romances and break-ups, she stayed single, devoting herself to her work and building female friends.
"I didn't date for two and a half years," she revealed. Her single "Blank Space" is a winking examination of her image in the press from those years.
Swift and Harris were introduced by mutual friend singer Ellie Goulding at the BRIT Awards afterparty in 2015 and quickly hit it off. Even though Swift and Harris have been busy with worldwide concert tours this year, the pair has been spotted out around the globe together. Harris spent Christmas with his girlfriend's family in Vail, Colorado and Swift has been spotted in the crowd at a multitude of Harris's gigs. They even originated #swangoals.
The split comes as a shock especially so quickly after the famous DJ's car accident last week, which forced him to cancel a few gigs. While Harris is reportedly feeling better, a source told E! News, the music producer is "enjoying some time off to rest and get his body back to where it was. He is going to the gym but not working too hard." The insider added that Swift was being supportive and nurturing during this time. "Taylor was there for Adam with his accident and supportive."
As for the break-up, a source told E! News, "Taylor is pretty upset but they are still in communication."
Neither Swift nor Harris have confirmed the reported split so there is still hope for Tayvin fans. I for one am hoping this isn't true, but if it is: I hope Swift can move on. She's totally #bestfriendgoals, the beautiful girl who is a bit awkward we all wish we could be (instead of the awkward girl we actually are), so of course I don't want her to be hurting. Plus, I can't help but admit I'm a tiny bit disappointed… they were such a beautiful, fun looking couple. Oh, well I'm sure Swift's squad will be there for her, showing up to her house with some cookie dough and red wine.
If I were more cynically-minded I'd note that if they did break-up, we're sure to get a killer album out of it.