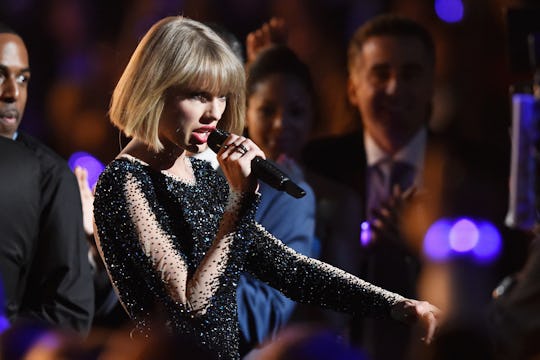 Taylor Swift Upstaged Ed Sheeran's Grammys Award & Twitter Isn't Happy About It
During the 58th Annual Grammy Awards on Monday night, Ed Sheeran won the Grammy for Song of the Year for "Thinking Out Loud," but the main camera at the Grammys focused on Taylor Swift instead of Sheeran. It was strange, and the Internet did not understand why Swift effectively upstaged Sheeran's big moment. Yes, Swift's "Blank Space" is great and all, but she didn't win the award. And, yes, her reactions to big moments are pretty damn hilarious and priceless, but, like, Sheeran won the Grammy, people. It was his moment!
I totally understand what fans were feeling. It seems like cameras focus on Swift at all major award events because her reactions to things are so candid and the way she dances in her seat can be pretty awkward. But, still, there are good moments to give Swift some camera time, and then there are moments where someone just won a freaking Grammy. That time when, you know, someone is winning an award that few people in the music business actually achieve in their careers is not a Swift-camera time moment.
Yes, Swift is super cute and she and Sheeran are buds, but let's see his reaction to winning one of the toughest categories at the Grammys. Here's video of the moment and some of Twitter's not-too-happy reactions.
Then again, she was just excited for her friend. I mean, look at this cute moment.
Still, the camera people should know to focus on the award winner's big moment. Swift will probably have some big moments too, but let Sheeran have the spotlight for two seconds.