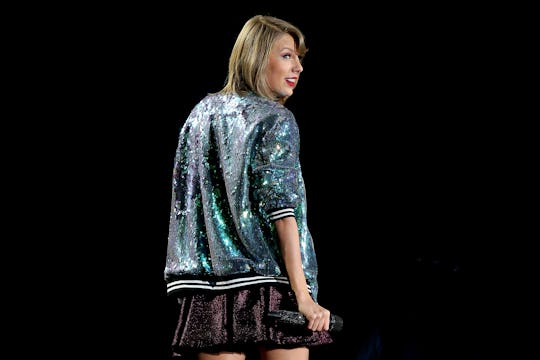 Taylor Swift Will Debut "Out Of The Woods" Video On 'Dick Clarke's New Year's Rockin' Eve'
Swifties, rejoice. Her 1989 tour may be over, but Taylor Swift will debut her "Out of the Woods" video on Dick Clarke's New Year's Rockin' Eve with Ryan Seacrest on Dec. 31. No word yet on whether Swift will actually be in attendance or not, but let's be honest — we won't care, since we'll be busy playing and replaying Swift's new video.
New Year's Rockin' Eve is lined up with 38 performances and over five hours of music, featuring Tove Lo, Rachel Platten, 5 Seconds of Summer, Nick Jonas, and One Direction. It's hosted by Ryan Seacrest, joined this year by actress Jenny McCarthy, and will begin at 8 p.m. E.T. ABC has so far kept its lips sealed on when the "Out of the Woods" video will drop during the show, and whether it will be accompanied by an appearance from Swift.
This will be Swift's sixth music video for the 1989 album, but likely one of its most hyped. The song was the first promotional release for the album, and jumped ahead of "Shake it Off" on the Hot Digital Songs chart.
In a Grammy Pro Listening Session video, Swift discussed the song and its origins, which came from a collaboration with Jack Antonoff of Fun. As transcribed by People, Swift said:
Hearing this track, it just kind of conjured up all these like feelings of anxiety that I had had in a relationship where everybody was watching, everybody was commenting on it. You're constantly just feeling like, are we out of the woods yet? What's the next thing gonna be? What's the next hurdle we're gonna have to jump over? Are we gonna make it to next week?
It was interesting to write about a relationship where you're just honestly like, this is probably not gonna last, but how long will it last? Those fragile relationships, it doesn't mean they're not supposed to happen. How the whole time we were having happy memories or crazy memories or ridiculously anxious times, in my head it was just like, are we okay yet, are we there yet, are we out of this yet?
Swift fans have a (pretty solid) theory that the song is centered on her relationship with Harry Styles, since the singers wore matching paper airplane necklaces throughout their relationship, which are referenced in the song. The lyrics also refer to an accident and a brief hospital stay, and Styles did have a snowmobile accident while the two dated. Fans are now waiting to see if there are references to the One Direction singer implanted in the video.
Well, and having a lot of feelings about a video in general, too:
Images: GIPHY.