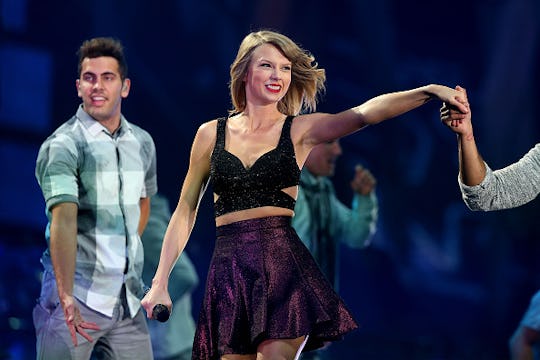 Taylor Swift's '1989' Tour To Stream On Apple Music, & Here Are 5 Moments We Can't Wait To See
Some — well, most of us — are still emotional about Taylor Swift's world tour wrapping up. And by all measures it was a success. But what about those who missed out? Do we have to just accept that we let one of the biggest must-see events pass us by? Not exactly. During her birthday this weekend, the singer decided to give fans a great gift: Miss Swift announced the '1989' tour is available on Apple Music starting Dec. 20.
Since we are already nostalgic about the '1989' tour — which concluded on Dec. 12 — the newer subscription service is acting quick to roll out her performance. And this isn't the first time we've seen Swift's name beside Apple Music. Remember when the platform was doling out free three-month subscriptions, but had no plans of paying musicians royalties? Well, Swift wasn't having any of it and the made it known through her Tumblr. "I find it to be shocking, disappointing, and completely unlike this historically progressive and generous company," T-Swift wrote to Apple Music in June. And she wasn't finished there. Swift continued:
But I say to Apple with all due respect, it's not too late to change this policy and change the minds of those in the music industry who will be deeply and gravely affected by this. We don't ask you for free iPhones. Please don't ask us to provide you with our music for no compensation.
It seems like the spat was only water under the bridge, especially since Apple Music reconsidered and decided to pay royalties during the free trial period. So now, we can enjoy one of the biggest tours from the comfort of our living room. And what can we expect to see? Fortunately for us, Swift has let us in on some performances that will make their way to Apple Music — and here's five we can't wait to see:
1. Taylor Swift & John Legend Teaming Up For "All Of Me"
We love John Legend. And we clearly adore T-Swift. So, them getting together to belt out "All of Me" is everything we ever needed. Add in that Legend is tickling the ivory and we are beyond sold.
2. Ed Sheeran & Taylor Swift — Enough Said
Though this track appeared on her 'Red ' album, Swift has said that we could expect to see an appearance from our new favorite redhead. Though she hasn't dished out all the details, we hope she decides to do a throwback to this song.
3. Selena Gomez's Cameo
Selena Gomez was one person we were excited to see in the '1989' World Tour Live promo. Though, footage from the Staples Center date shows Taylor covered "Good For You" with Gomez during the tour, can we expect to see the same? Guess we'll have to wait and see.
4. Wiz Khalifa & Taylor Swift
From pop stars to rappers, Swift sure knows how to give fans a memorable experience. So, it should come as no shock that Wiz Khalifa will also grace the stage with T-Swift. It's pretty certain they'll perform his Grammy-nominated song, "See You Again" (minus Charlie Puth, of course.) But we're up for anything at this point.
5. Taylor Swift & Mary J. Bilge's Unforgettable Duet
Okay. This one probably has taken most of us by surprise, but we're so glad it actually happened. According to reports, Mary J. Blige and Swift sang duets of "Doubt" and "Family Affair" during the '1989' tour. And, with any luck, these must-see performances will their way to Apple Music.
Image:Graham Denholm/Getty; Giphy