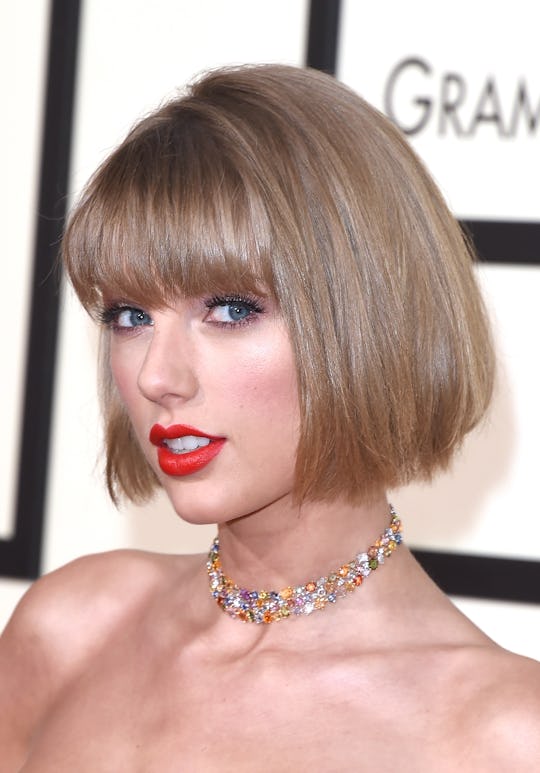 Jason Merritt/Getty Images for NARAS
Taylor Swift's Grammys Dress Showed Off Her Adventurous & Mature Style
Taylor Swift arrived at the Grammys on February 15 looking every bit the sensational star that she is, and the Internet took notice, natch. Taylor Swift's Grammys dress showed off her wild side (or more accurately, her bandeau top and full skirt, with a deep, deep split) and offered us a departure from the red-lipped, vintage norm we usually see Swift sporting and provided a look into the star's more adventurous side. Swift's awards season style is one that's enviable no matter if her fashion choices fit into your purview.
In 2012, Swift walked the VMAs red carpet in a head-to-toe white suit, with blunt bangs, a sleek, straight 'do, and a fire-engine red lip. It was, perhaps, her most daring choice — Swift was sending a message to fans and the industry that she was leaving behind the innocent, cookie-cutter, country-singing princess shtick in favor of a more mature, pop queen. Swift one-upped the look in 2013 with the same signature red lip and a plunging neckline. But just a year later, Swift once again shed all the perceptions people had of her and showed up to the VMAs wearing a Mary Katrantzou romper, enviable fringe-inspired bangs, and a wavy lob that probably inspired thousands of hair appointments the following day. Point is, Swift is everything but predictable on the red carpet as of late, and this year's Grammy awards outfit was no exception to that rule.
Though her Grammys fashion sense has been noticeably more reserved in the past — longer gowns, less skin, more flare, less "dare" — Swift's look tonight was everything we've come to expect from the starlet: refreshingly surprising. Take a peek at her look on the red carpet:
And here is Taylor's look in full:
Here's another angle (with her best friend and date to the show, of course):
Though this outfit is clearly going to be hit or miss for some, I love how sophisticated and daring it is. It shows an all-new side of Taylor, one we don't often get to see because we expect to her to be the "good," "well-behaved" girl next door. But I love that Taylor is playing up and owning her sex appeal in this look. She's young, in the peak of her career, surrounded by some of her best friends, and honestly, she's living her best life. I love the blunt bob she debuted too, with matching blunt bangs. Also, is this just me, or is is Swift's 'do giving you serious Katie Holmes vibes (right as her relationship with Tom Cruise peaked) too? Regardless, I love the confidence the look conveys.
Taylor is, unsurprisingly, sporting her signature red pout and a sky-high heel that just makes it look like she's gliding down the carpet. Though I may call the altar of Beysus home, there's no denying that I'm floored by Swift's knockout fashion choice. It was a risk for sure, but it was dynamite in my opinion.