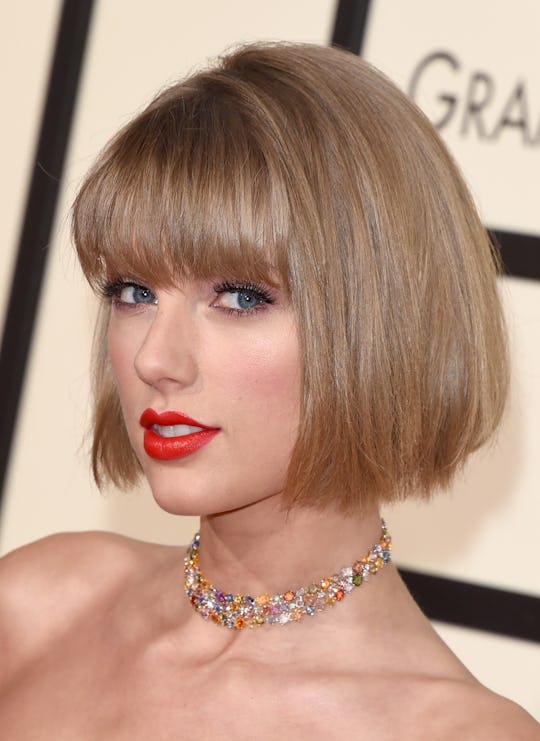 Jason Merritt/Getty Images
Taylor Swift's Grammys Hair Looks Like Anna Wintour's, & Yes, Twitter Noticed
Despite a stunning get-up and one truly spectacular girl-date with bestie Selena Gomez, Taylor Swift's Grammys hair wasn't exactly everyone's favorite. At the big music award show on Monday night, Swift arrived dressed in an edgy two-piece, red and pink get-up, topped off with a jeweled choker, clean bob, and blunt bangs. Immediately, Twitter began drawing comparisons between Swift and renowned Vogue editor Anna Wintour.
"Is it just me or is Taylor Swift channeling a certain someone with that hair?" questioned one Twitter user, posting a side-by-side comparison of the two women (which, when you put it that way, is pretty damning.)
A good portion of TaySwift's loyal followers adored the singer's simple bob, with one user tweeting, "I'm digging @taylorswift13's hair at the Grammys tonight! She looks like a young Anna Wintour." Still, not everyone was feeling Swift's new look.
"Sorry girl but you need a new stylist," lamented one at-home viewer, critiquing Swift's overall look. "That hair isn't helping...." Other users shared in that sentiment. "I'm just gonna say it — I hate Taylor Swift's hair," wrote another fan, before adding, "Love the dress though."
Although no one's quite sure whether Swift's blunt bob was the Real Deal™ or not (Glamour even suggested that the new 'do could potentially be a wig), the clean-cut style made some serious waves on Monday night — which, knowing Swift, was probably the whole point.
Jason Merritt/Getty Images for NARAS & Michael Loccisano/Getty Images
Swift may not have won everyone's hearts with her new bob on Monday night (personally, I loved it), but by choosing to channel Wintour, she could at least say she gave it a good, fashionable try. Kudos to you TaySwift.