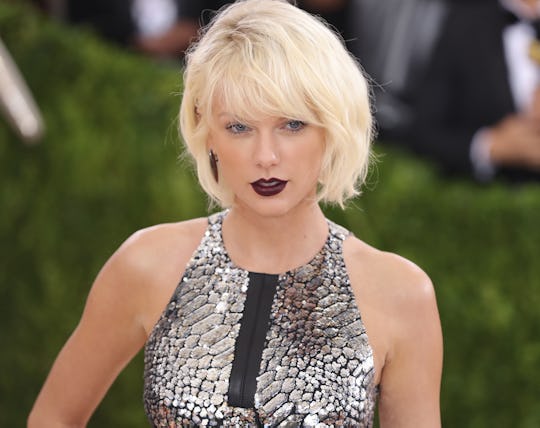 Neilson Barnard/Getty Images Entertainment/Getty Images
Taylor Swift's Latest Tweet About Kim & Kayne Proves She Is So Over Playing Nice
She might be at the center of the world's most famous girl squad, but Taylor Swift's latest tweet about Kim and Kayne proves that she's not afraid to stick up for herself in a fight. Though things between Swift and West first went belly-up in 2009 (after the infamous MTV Video Music Awards incident when West hijacked Swift's acceptance speech), it seemed like the two had managed to smooth things over. Until, that is, West released The Life Of Pablo, featuring the song "Famous," according to Entertainment Weekly, which included the line, "I feel like me and Taylor might still have sex /Why? I made that b*tch famous." Swift called out West for the lyric, and both he and Kardashian hit back, saying she consented. But it sounds like she has finally had enough: she wrote on Twitter Sunday night that West "falsely painted [her] as a liar," and that the video he claims he has that proves Swift consented to the lyric "doesn't exist because it never happened."
After Swift claimed publicly that she had not given West the OK to release the song as it was written, Kardashian posted a video of West on the phone with Swift on Snapchat Sunday, discussing the song, according to E! News. In the clip, Swift sounds like she is trying to be super agreeable, and after the fact, West tweeted that Swift had found the lyrics to his song "funny" and that "she gave her blessing." But Swift said he never told her about the line, "I made that b*tch famous," and that her so-called blessing was more about giving West the benefit of the doubt than anything else:
You don't get to control someone's emotional response to being called 'that b*tch' in front of the entire world. Of course I wanted to like the song. I wanted to believe Kayne when he told me that I would love the song. I wanted us to have a friendly relationship. He promised to play the song for me, but he never did...You cannot 'approve' of a song you haven't heard.
In Kardashian's Snapchat clip, West can be seen reading out part of the lyric in question — "To all my southside n----s that know me best, I feel like me and Taylor might still have sex" — to Swift over the phone, and explains that he thought it was a "really cool thing to have." Swift awkwardly agrees, saying "it's like a compliment, kind of," to which West replies, "all I give a f--k about is you as a person and as a friend, I want things that make you feel good." "That's really sweet," Swift says.
The conversation between the two continues, and through it all, Swift does sound happy and chatty and fine. But after the song was released, and she actually heard it? She claims West misled her over the phone. According to The Guardian, Swift's rep released a statement about the song in February, which said,
Kanye did not call for approval, but to ask Taylor to release his single Famous on her Twitter account. She declined and cautioned him about releasing a song with such a strong misogynistic message. Taylor was never made aware of the actual lyric, 'I made that b*tch famous'.
Though she never addressed the song directly initially, Swift alluded to the controversy during her Grammy acceptance speech for Album of the Year, according to Entertainment Weekly, and said,
There are going to be people along the way who will try to undercut your success or take credit for your accomplishments or your fame. But if you just focus on the work, and you don't let those people sidetrack you, some day when you get where you're going, you will look around and know it is you and the people who love you who put you there.
That's when Kardashian stepped into the ring. In an article with GQ, Kardashian argued that she had recorded proof of Swift saying she was fine with the song, and in the most recent episode of Keeping Up With The Kardashians Sunday, Kim could be seen discussing her GQ interview comments with Kourtney, according to E! News. She said,
I never talk s--t about anyone publicly, especially in interviews. But I was just like I had so had it. I just felt like I wanted to defend him in it because it's like, she legitimately quote says, 'As soon as I get on that Grammy red carpet I'm gonna tell all the press. Like I was in on it.'
By releasing the video, it seems Kardashian intended on letting the world see that West really did talk to Swift on the phone, and that Swift really did seem A-OK with what he said. And there's no denying that she didn't condemn the song, or seem angry at West for what he was saying. But does that prove that she doesn't have a right to be angry about it now?
In Swift's latest tweet responding to the video (captioned "That moment when Kanye West secretly records your phone call, and then Kim posts it on the Internet"), she argues that she didn't have the whole story, but more importantly, that she wanted to believe West had her best interest at heart. Maybe that was naive given their history, or maybe West did even believe himself that the song was honestly a compliment. But being told a lyric on the phone by someone who you thought had become your friend is one thing — hearing him call you a b*tch in the actual song you hadn't even heard and feeling totally embarrassed and taken advantage of is another.
Of course, Swift has been no stranger to frenemy drama over the years — she also made headlines due to feuds with Katy Perry, and most recently with ex Calvin Harris. The release of Kardashian's Snapchat video is sure to add fuel to those fires, too. But whether you're #teamtaylor or #teamkayne, one thing seems certain: the world likely hasn't heard the last of this feud just yet.