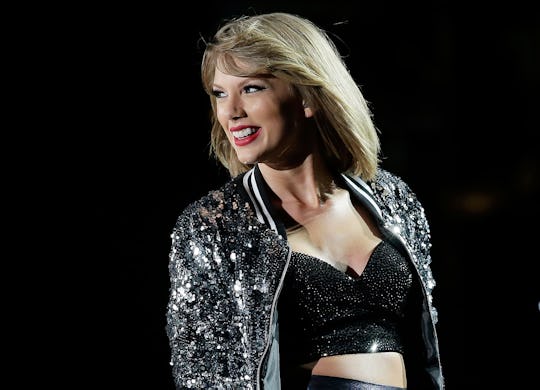 Mark Metcalfe/Getty Images Entertainment/Getty Images
You *Definitely* Missed This Touching Tribute in T-Swift's New Music Video
Late Thursday night, Spotify released a new music video for Taylor Swift's "Delicate." While the first video, released over two weeks ago, was a big budget production full of fancy sets and interpretive dance, the new version is much more personal. It's fitting, as the song is presumably a tribute to her new love interest, British actor Joe Alwyn, a newcomer best known for the 2016 film Billy Lynn's Long Halftime Walk. And if there was any doubt that the lyrics were a reference to him, Swift dropped a big hint in the Spotify video.
The single-take video was shot in a vertical selfie style. Swift's hair and clothing are casual, and she sings directly to the camera while twirling around in a forest clearing. It's much more evocative of the thrill of new love, and at the 47-second mark, Swift offers the most obvious clue yet. When she sings the line "You must like me for me", she points to her chest, which would be a completely innocuous gesture, were it not for the jewelry situated just above her finger: a silver pendant engraved with the letter "J," for Joe. How sure are we that this isn't another Beyoncé/Illuminati situation, where fans read too much into things? Oh, honey. There's plenty of evidence.
This isn't the first time the necklace has cropped up; she was also wearing it in her "End Game" video, which also seems to be about Alwyn. According to Elle, some viewers have interpreted the video's London setting as an allusion to the Brit being Swift's end game, i.e. the person she was meant to end up with. And how do we know that the "J" stands for Joe? In "Call It What You Want," a third song from Swift's Reputation album, she sings, "I want to wear his initial on a chain 'round my neck."
Furthermore, Swift is well-known for singing about boyfriends (both current and past), and she's also fond of hiding Easter eggs in her videos. What's more, she often uses necklaces to send hidden messages. Check it out:
The Serpent
In the sprawling experience that is "Look What You Made Me Do," Swift dons a serpent necklace, bracelets, and rings while actual snakes serve her tea. This was a reference to haters calling her a snake (and bombarding her social media accounts with snake emojis) due to her feud with Kim Kardashian and Kanye West, according to Extra, and also anyone who followed celebrity gossip in 2016.
The 13
Later in the video, Swift's pet cheetah (I told you it was an experience) also wore a necklace with personal significance. It features the number 13, Swift's birthday, which she believes is a good luck charm, according to The Cut.
The Locket
One more from "Look What You Made Me Do," and I promise I saved the best one for last. To the left of the bathtub, note the discarded jewelry that conveniently spells out the word "No." The "N" is thought to be a locket given to Swift by ex-boyfriend Adam "Calvin Harris" Wiles. Some fans even think this might be a nod to a declined marriage proposal, according to Hello Giggles.
The O.G. Snake
Don't credit Kanye for Swift's fondness for slithering creatures. Swift first wore a snake necklace in her 2014 "Shake It Off" video, an ode to her "haters." One notable hater whom she didn't call out by name was her first feud partner, Katy Perry. According to CNN, it's that feud that originally inspired the taunt.
The Paper Plane
Also released in 2014, Swift's "Style" is an artsy interpretation of her breakup with former One Direction member Harry Styles. One blink-and-you'll-miss-it shot features a paper plane pendant similar to the one Swift frequently borrowed from Styles. She also referenced it in the lyrics to "Out of the Woods," according to US Weekly, singing about "your necklace hanging from my neck" and likening the couple to "two paper airplanes flying, flying."
So there you have it. Literally every object in Swift's videos have a hidden (or not-so-hidden) meaning, and necklaces are incredibly meaningful to her. Look for this latest one to show up either on her wedding day, or in a blender in a video from her next album.