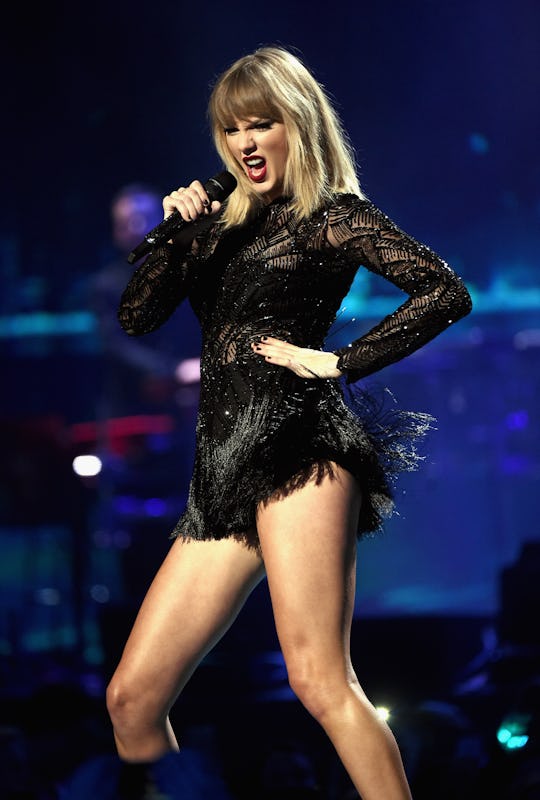 Kevin Winter/Getty Images Entertainment/Getty Images
Taylor Swift's Political Post Caused A Major Surge In Voter Registration
Taylor Swift shocked fans on Sunday, when — for the first time in her entire musical career — she opened up about her political beliefs. The "Look What You Made Me Do" singer did so by endorsing two Democratic candidates in Tennessee via Instagram. Although her more conservative fans probably weren't too happy about this bold decision, it turns out plenty of Swift's followers have already heeded one aspect of her advice. That's because Taylor Swift's political post caused a surge in voter registration — showing just how impressive her reach really is.
As BuzzFeed News reported on Tuesday, voter registration on Vote.org has experienced a marked spike since Swift's post on Sunday, Oct. 7. "We are up to 65,000 registrations in a single 24-hour period since T. Swift's post," Kamari Guthrie, director of communications for Vote.org, told BuzzFeed. To put this number into perspective, a total of 56,669 new voters were registered nationwide during the month of August, and 190,178 were registered in September. Tennessee in particular has seen an impressive surge in voter registrations since Swift's endorsement, according to BuzzFeed. Vote.org has received 5,183 in Tennessee so far in October — and at least 2,144 of these occurred over the past 36 hours alone. (By contrast, only 2,811 new registrations in the state were received in September, along with 951 in August.)
Aside from the number of registrations Vote.org has seen since Swift's post, the sheer number of visitors has also experienced a drastic surge. In the last 24 hours, there were 155,940 unique visitors — compared to the average daily user count of 14,078 in 2018. This marks the second-largest day of traffic, with National Voter Registration Day (Sept. 25) still coming out on top with 304,942 unique visitors.
The Instagram post responsible for this impressive surge in voter registration was published over the weekend by the singer, according to People. "I'm writing this post about the upcoming midterm elections on November 6th, in which I'll be voting in the state of Tennessee," Swift began her lengthy message to followers. "In the past I've been reluctant to publicly voice my political opinions, but due to several events in my life and in the world in the past two years, I feel very differently about that now." She continued:
I always have and always will cast my vote based on which candidate will protect and fight for the human rights I believe we all deserve in this country. I believe in the fight for LGBTQ rights, and that any form of discrimination based on sexual orientation or gender is WRONG. I believe that the systemic racism we still see in this country towards people of color is terrifying, sickening and prevalent.
Swift went on to outline the precise reasons why she cannot vote for Rep. Marsha Blackburn for Senate, according to USA Today. Instead, she will be casting her vote for Phil Bredesen for Senate and for Jim Cooper for the House of Representatives. To conclude her epically political post, Swift called for her Instagram followers to take action ahead of the mid-term elections — and to first make sure they're registered to vote. "So many intelligent, thoughtful, self-possessed people have turned 18 in the past two years and now have the right and privilege to make their vote count," she wrote. "But first you need to register, which is quick and easy to do. October 9th is the LAST DAY to register to vote in the state of TN. Go to vote.org and you can find all the info. Happy Voting!"
Clearly, Taylor Swift's followers took her advice about registering to vote to heart. Even if she risked losing fans because of her political support for Democrats, I'd say the voter registration results were worth the gamble. I guess we'll see, come next month, whether Swifties in Tennessee will ultimately make a difference in the election results. Either way, you have to admit: Swift's voter registration surge is seriously impressive.