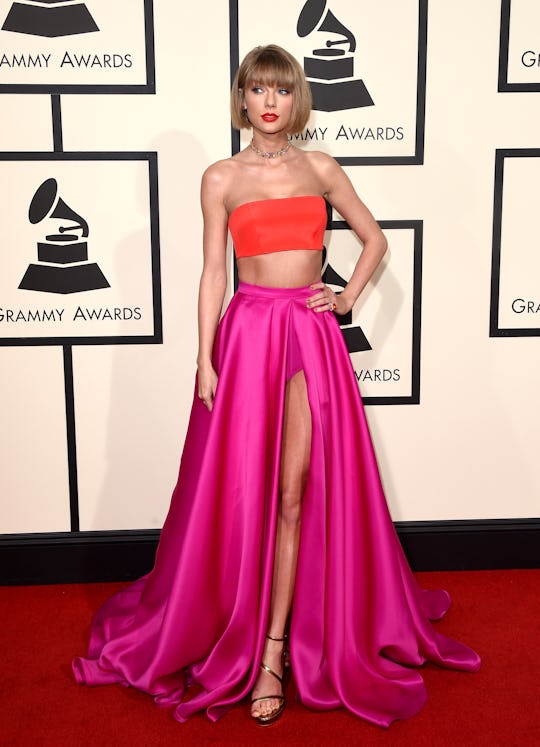 MARK RALSTON/Getty Images
Taylor Swift's Reaction To "Bad Blood" Grammys Win Includes Selena Gomez & It's So Perfectly Them
On Monday evening before the broadcast, they started to give out some Grammy awards and while it's a bummer (or a blessing) to miss some awkward acceptance speeches, we can thank social media for providing us with some celeb reactions. Of all of the surprised reactions we saw on Monday night, nothing beats Taylor Swift and Selena Gomez' reaction to "Bad Blood" Grammy win for Best Music Video. Backstage at the Staples Center in Los Angeles, the ladies were caught on camera simply freaking out when they heard the news. T. Swift, clad in a fuzz robe, and various members of her squad were all squeals at the honor.
It's exactly what you'd expect from the pop stars. Swift tweeted right after the announcement that her, Gomez, and crew were "not OK." Gomez retweeted the Vine, still basically squealing in text, writing, "I got to be in my best friends first Grammy award winning music video!!!!!!?!" You can't really see Taylor except for her covering her face and crumpling over with sheer girly joy. Actually, it's Gomez who should win the Grammy for best supporting friend. Donned in a sick little black robe, Gomez is leading the charge in the celebration and her and Taylor share a huge hug.
If you weren't convinced that Swift and her crew were total Squad Girls, this backstage scene should do the trick. In the background, more friends and family are cheering the BFFs on as they do their thing. Shortly after the win, the two stepped out onto the red carpet looking as boss as ever. They clean up well, right?
Swift and Gomez go way back and they've shared the red carpet before at tons of events. And they're always suprised to find themselves at awards shows. At the 2011 American Music Awards, they wore their best "surprised" faces backstage. They're also no strangers to impromptu freak outs or dance parties.
The two have been pretty much inseparable ever since they met. In fact, last week when Kanye West called Taylor out in some of his new lyrics, Gomez immediately had her back. She told SiriusXM Hits 1 "Everybody has their own opinion," in the most diplomatic response ever. But she couldn't help adding in a little punch, saying that her best friend is "killing it," and "she kind of always has been."
Monday's Grammy ceremony will just be another notch in their BFF belt. And even though no one will be suprised if Taylor cleans up tonight, it's nice to know that the ladies are still psyched to be doing their thing.