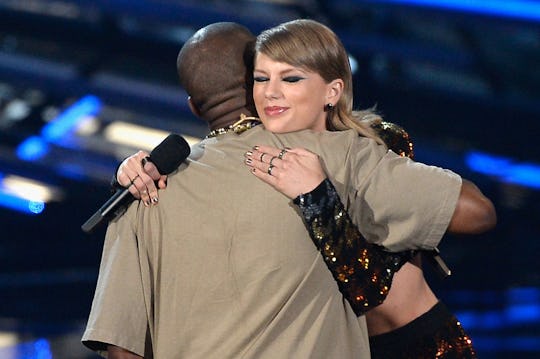 Kevork Djansezian/Getty Images Entertainment
Taylor Swifts Rep Calls Out Kanye's "Famous" & Kanye Goes On A Twitter Rant
Oh, Kanye West. West's long-awaited new album debuted last night at Madison Square Garden. Fans were excited, until they heard his song "Famous." In it, he used some not-so-nice language when speaking about one of the most beloved people in the music industry, Taylor Swift. Bad move, West. But that's not all. On Friday, Taylor Swift's rep called out West and West responded with a Twitter rant, because of course he did.
According to BuzzFeed News, several weeks before The Life of Pablo was set to debut West reached out to Swift to see if she would promote one of his new songs, "Famous." He wanted her to tweet about it to her fans, since the song mentioned her. He did not say in what context it mentioned her, however. According to a statement by Swift's publicist, she and Swift were very offended by the song's "misogynistic message." As a result, Swift refused to play any role in its promotion, and she even "cautioned" him not to release it at all.
The now-infamous line in the song is "I feel like me and Taylor might still have sex. Why? I made that bitch famous." While it seems like a good move on West's part to reach out to her, he did not heed her words. In fact, Swift's offended reaction is not what West reported at all. According to TMZ, West said Swift "got the joke and gave him the thumbs up to release the song with the lyric." Yet according to BuzzFeed, her publicist's statement in full said:
Kanye did not call for approval, but to ask Taylor to release his single "Famous" on her Twitter account. She declined and cautioned him about releasing a song with such a strong misogynistic message. Taylor was never made aware of the actual lyric, 'I made that bitch famous.'
While the tension between West and Swift has been latent, or even resolved, since the 2009 MTV Video Music Awards fiasco, this latest infraction seems like a dealbreaker. Though Swift has yet to comment on West's actions or album directly, her friends, family, and fans are rallying around her. Swift's brother even uploaded a video of him throwing his new Yeezy sneakers in the trash. Model Gigi Hadid tweeted her support for Swift from the album release event at Madison Square Garden.
The mature thing for West to do here may have been to apologize or even just say nothing. Let it pass. But that's not really his style. He took to Twitter on Friday, once again, to rant about the reaction to his song.
He turns to the classic censorship argument.
Plus, he asked Kim Kardashian West for her opinion, so that obviously makes the whole thing OK! (No. No, it doesn't.)
He even said that the whole thing was Swift's idea. Damn. It all makes sense now.
Also, for future reference, using #FACTS makes things true.
Really, West just misses the good ole days, when anyone could say what they wanted without fear of repercussions (channeling some Donald Trump).
He started to get a bit scattered at the end.
The strange, but perhaps fruitful friendship that had been growing between West and Swift since 2009 may now be over. In GQ's November 2015 issue, Swift spoke about their relationship:
That was the most happenstance thing to ever happen in my career; and to now be in a place where Kanye and I respect each other—that's one of my favorite things that has happened in my career.
West apologized, publicly and profusely, and hoped to receive forgiveness for trying to take her MTV award away. It remains to be seen if any amount of apologies can fix him claiming that her rise to fame was something he caused, and then saying that they should have sex as a result of West's gift to her.