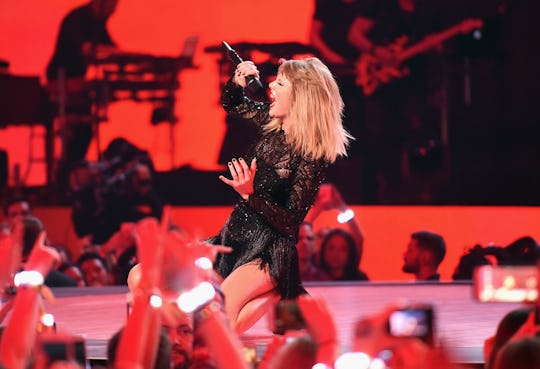 Kevin Winter/Getty Images Entertainment/Getty Images
Taylor Swift's Reported Boyfriend Joe Alwyn *Finally* Has A Public Instagram
Keeping up with our favorite celebrity's lives is a lot easier when we can also follow the social media accounts of those closest to them. Though becoming "Facebook official" was once the most legitimate relationship status next to, uh, a marriage license, becoming Insta official is where it's at now, and according to these latest reports, another one of our favorite songstresses may be one step closer to doing just that. Taylor Swift's reported boyfriend Joe Alwyn now has a public Instagram, meaning that we can glean even more behind-the-scenes details at their life together.
Us Weekly reported that on Monday, Alwyn made his account public, sharing the few posts he's updated his account with over the past three years. His second to most recent post, however, was a particularly revealing snap: a picture of himself beneath a cactus, dated May 8. Stans of Swift will recall that she posted the exact same photo of herself one day prior to Alwyn's time stamp. Coincidence? Of course not. Though the lineup certainly doesn't mean they're, as you'd call it, "Insta official" (which tends to involve at least one couple selfie somewhere) it definitely doesn't mean nothing, and thanks to Alwyn's confirmation, the two have definitely been spending a lot of time together over the past few months.
Back in July, Us Weekly reported that a source close to the couple said Swift is the "happiest she's ever been" with Alwyn, and that he's a really good influence in her life. "Joe has really showed her a different lifestyle and the value of privacy," they said, noting that the couple has "vowed to keep their relationship to themselves. They've done everything they can to keep it that way."
Though it isn't clear when, or how, the two were introduced, fans have theories as to what happened. Cosmopolitan reported that many believe the two met in May 2016 at the Met Gala. The evidence? Well, in Swift's song "Dress," she says: "Flashback to when you met me/Your buzz cut/And my hair bleached." (Alwyn's hair was short at the event, and Swift's was white blonde.)
But it wasn't until May of 2017 that news first broke that the two were seeing one another. Metro reported that Swift was visiting London with Alwyn, and that the two were already an item. A "friend" of the couple's reportedly added: "This isn't a new couple alert or a secret relationship. The only people this has been a secret to is the media because all of us, Taylor and Joe's closest friends and their families, were aware they have been together for several months and have known each other for a long time."
Be that as it is, neither party has explicitly confirmed or denied the dating rumors. However, fans who have followed Swift's dating journey can understand why she'd be press shy when it comes to her romantic life, which has been consistently splashed across headlines for years.
In 2013, Swift told Vanity Fair that she hadn't found her "great love" yet, and that she's not sorry for continuing to date until she does find Mr. Right. "I'm perfectly happy for all my past relationships to be wrong until I find the one that's right. I'm very happy not having found my great love yet," she told Vanity Fair.
But if Swift knows anything, it's that every relationship serves a purpose. In 2010, The Washington Post reported she said on stage during a concert: "There are two different categories of love. The first category is called a fairytale. The second category of love is called just another lesson." Though Swifties are keeping their fingers crossed that Alwyn is the former, we'll just have to wait and see if Insta reveals the truth.