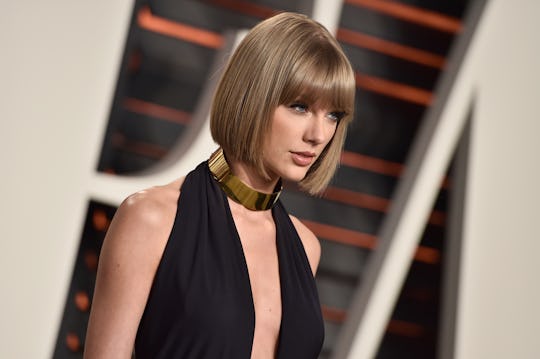 Pascal Le Segretain/Getty Images Entertainment/Getty Images
Taylor Swift's "Reputation" Is Now Available To Stream
FOMO, or the fear of missing out, can strike at any time. Especially when your favorite artist (ahem, Taylor Swift) releases their first album in three years only on iTunes and in stores and your friends can't stop talking about the songs. But that fear of missing out shouldn't be a problem anymore. Because, as of Dec. 1, Taylor Swift's Reputation is now on Spotify and now people can finally understand why everyone else has been obsessed with it.
Don't be surprised when you go into Spotify or on your favorite streaming website and find that Reputation has suddenly appeared. Swift finally released the album for everyone to hear, for free, early Friday morning to Spotify, Apple Music, Pandora, Amazon, and other streaming services.
Fans of Swift might have been a little shocked to find the album available to stream, according to Billboard, because Swift and her team never announced when they were going to release the album to services. In a way, it was like her early Christmas present to fans, some of whom (like myself) got to listen to Reputation for the first time, ever. Those same people took to Twitter to express their excitement over the opportunity to finally listen to the album.
It is awesome that Swift put the album online for fans to listen to for free. Around the holiday season, people are keeping an eye on their budgets and can't really afford to spend the money on something they're not sure that they will even like. By putting the song on different streaming websites, Swift is allowing her fans to sample the songs and purchase the ones they'll want to hear over and over again. Not to mention, now that the full album is out on Spotify, you can add your favorite songs from the album to your killer party playlist ("End Game" will make a great addition).
If you're not one of the people who have been listening to the album since it appeared on Spotify at midnight, you can conveniently listen to it online or in this convenient embedded player, like right now.
Swift's music appearing on Spotify, in general, might come as a shock to a lot of people. In 2014, Swift made the decision to pull her music off of Spotify due to the fact that she was making a stand about declining music sales, according to Business Insider. This was a decision she made to put "value" to her music, she explained to Time. This is because, according to Business Insider, artists "generally don't make as much money putting their albums on Spotify." In the meantime, people could still listen to her music on Apple Music or buy her songs and albums on iTunes.
But earlier this summer, Swift's music returned to Spotify and other streaming platforms without much explanation, according to NPR — and it is a good thing that her albums and songs returned. Whether people love, hate, or love-to-hate Taylor Swift, it is hard to deny that a lot of her music is really catchy. Fans have been loving Reputation, putting it to the top of the Billboard 200 charts within just two weeks after its release. The album has had pretty great reviews and has been described as "her most intimate" album yet, showing a darker and more honest side from Swift that many have never seen before.
But the fun in listening to her music is figuring out the famous subjects of her songs — even if millions of people already got a head start on this when they bought Reputation in November. With the album now streaming for free, and 15 songs to decode, think this as your weekend plans being taken care of. You're welcome.