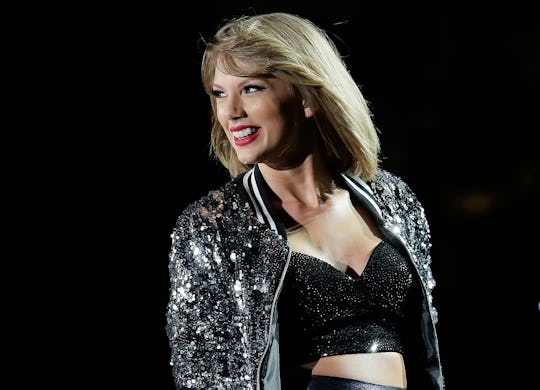 Mark Metcalfe/Getty Images Entertainment/Getty Images
Taylor Swift's Reputation Poems Are So Relatable
Taylor Swift is full of surprises, especially with her new album, Reputation. The album sounds like nothing that fans have heard from her before, surprising fans with her honest lyrics about who she is as a person and her current emotions. Another surprise? Instead of a traditional album and song booklet that typically comes with CDs, Swift replaced them with two tabloid style magazines for her Target release. The magazines contain a lot of never before seen photos from the star, as well as two unique poems from her. Yes, Taylor Swift is now a poet too, and Swift's Reputation poems are almost too relatable.
If you didn't or haven't purchased your physical copy of Reputation at Target, then you might be missing out on some very important Swift content. As previously stated, the album came with its own tabloid magazine — and there are two versions of these tabloids. But instead of Swift appearing in tabloid stories written about her friendships or relationships (like she is, every week) Swift controls the narrative in this tabloid. The tabloids feature exclusive paintings, polaroids, and even poems about Swift's life, according to Billboard.
But just like her songs and their lyrics, Swift's poems are just as real and honest than her hits. Honestly, if Swift's music career falls through (which is highly unlikely), then she definitely has a future as a poet. For all of those (like myself) who were unable to get their hands on the Target album release, Twitter users so graciously uploaded them to the website.
The two poems, titled "If You're Anything Like Me" and "Why She Disappeared" appear on the back flap of the tabloids and provide the perfect ending to the tabloids themselves. These poems sum up a very personal side of Swift, one that many fans haven't been able to see since Swift cut back on public appearances and closed herself off to the world for the first time in a long time.
"Why She Disappeared" is exactly about that, according to E! News, with Swift turning away from the public eye and spending some time with herself. Throughout the poem, Swift talks about the consequence of the events that led her to disappear from social media, which was spurned by a very high profile summer, according to Teen Vogue. In the poem, Swift writes:
When she fell, she fell apart
Cracked her bones on the pavement she once decorated
as a child with sidewalk chalk
When she crashed, her clothes disintegrated and she blew away
with the winds that took all of her fair-weather friends away
But at the end of "Why She Disappeared," Swift concludes that her past, that made her feel so bad, brought her to the place where she is today. "And in the death of her reputation," Swift writes. "She truly felt alive."
"If You're Anything Like Me" is less about Swift's story and more about her personality. "If You're Anything Like Me" lists all of Swift's normal, average quirks that you might not see on the red carpet or on stage at a concert. In the poem, Swift details these quirks: she bites her nails, laughs when she's nervous, believes in superstitions, and promises people the world. Not only are they too relatable, but they give an inside perspective behind some of Swift's public actions. At the end of the poem, like at the end of the day, she apologizes for who she is and what she has done — not that she needs to apologize. But as she states in the poem's ending, "its going to be okay."
With Reputation, Swift has shown a vulnerable side to herself that is so refreshing to see. These super personal poems, only published in the tabloids, highlight this.