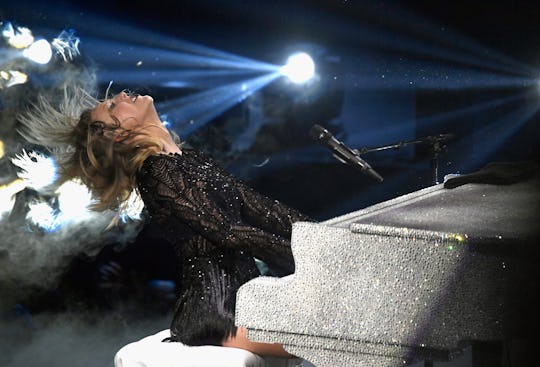 Frazer Harrison/Getty Images Entertainment/Getty Images
Taylor Swift's 'Reputation' Tracklist Has Reportedly Been Leaked
One of the most highly-anticipated albums of the year may have just experienced a major breach of privacy. That's right, Taylor Swift's Reputation tracklist has reportedly been leaked, and it's really not OK. As multiple news outlets have reported, a photograph of Swift's newest album began circulating online Tuesday, mere days before the singer's sixth studio album was set to be released on Nov. 10. Romper has reached out to Swift's representative for comment on the leak and is awaiting a response.
While Swift herself has yet to speak about the leak, the beautiful corner of the internet known as Swiftie Tumblr has been expressing its disgust at it, with many users writing how disappointed Swift must be by the lack of privacy. Swift has been working on this album for a long time, so to have one person snap a photo of the physical copy — likely to prepare for shelf stocking later on in the week — and virtually ruin the surprise for hundreds of thousands of fans, is pretty frustrating.
Update: Hours after an image of the tracklist was posted on Twitter, Swift released the official tracklist on her Instagram account. The leaked image of one of Swift's CDs, which has since been deleted, was an accurate representation of the song titles.
Earlier: According to Variety, the leaked tracklist contained the following song titles:
…Ready For It?
End Game (featuring Ed Sheeran and Future)
I Did Something Bad
Dont Blame Me
Delicate
Look What You Made Me Do
So It Goes…
Gorgeous
Getaway Car
King of My Heart
Dancing With Our Hands Tied
Dress
This Is Why We Can't Have Nice Things
Call It What You Want
New Year's Day
Of course, the official tracklist has yet to be released, something many fans apparently weren't aware of, as some Swift blogs and fan accounts began sharing the now-deleted photo. But, many quickly deleted their posts once they found out it was not technically public yet.
However, this wouldn't be the first time Swift or her team has faced some sort of leak surrounding an album release. In 2014, Swift's album, 1989 was also leaked online ahead of the album's release. As reported by Slate, the tracklist that was circulating online was actually an accurate representation of the album. So, while this latest leak is still unconfirmed (and will likely remain so until the scheduled release of Reputation), it's likely that it's probably pretty factual, especially considering the fact that a picture of the actual, physical album was included.
What's more, before Swift even announced her newest album or cleared her social media to make way for the news, a photoshopped image of an apparant new Swift album made its way across the internet, with song titles such as "Timeless" and "Somebody Else." Obviously, it's still not technically known if those will be song titles on Reputation, but it seems pretty unlikely.
What's interesting about this leak, though, is that it seems to have come from an employee for a store who came in contact with a new shipment of CDs. But, considering the fact that Swift has invited hundreds of fans into her home the past few weeks to let them listen to the album in its entirety, one might suspect that one of those fans was the source of the leak. But for now, it seems as though the fans lucky enough to attend one of Swift's Secret Sessions have kept their word and loyalty to the 10-time Grammy winner.
So, who leaked the photo of the CD, and is it real? Well, that's an impossible question at the moment. But fortunately, some of those questions will be answered in a matter of days. And clearly, we're all ready for it at this point.
Watch Romper's new video series, Romper's Doula Diaries:
Check out the entire Romper's Doula Diaries series and other videos on Facebook and the Bustle app across Apple TV, Roku, and Amazon Fire TV.