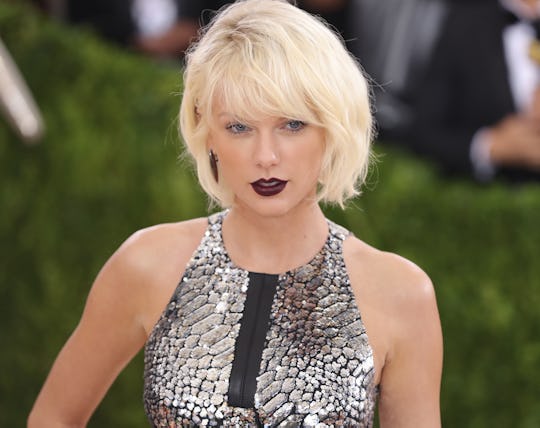 Neilson Barnard/Getty Images Entertainment/Getty Images
Taylor Swift's Statement Following Sexual Assault Case Highlights Her Privilege In An Unexpected Way
Early Monday evening, the jury read the anxiously-awaited verdict in Taylor Swift's sexual assault trial against David Mueller. After nearly four hours of deliberations, the court found Mueller guilty of sexual assault and battery — awarding Swift a symbolic $1 in damages. Not only was the dollar amount noteworthy, but Swift's statement following her sexual assault case also really stood by highlighting her privilege in a rather unexpected way.
Prior to Monday's proceedings, the singer alleged that former DJ David Mueller groped her, a claim which Mueller insisted cost him his job. He brought a suit against Swift for the allegation, but the charges were dismissed. The hearing which concluded on Monday was for a countersuit in which Swift sued Mueller for $1 for the trauma associated with the incident.
Once the verdict was read by the jury, representatives for Taylor Swift released a statement to Bustle detailing her plans following her victory. In her statement, she thanked the court for their role in the process and unexpectedly pointed out the role that her privilege played in bringing Mueller to justice:
I want to thank Judge William J. Martinez and the jury for their careful consideration, my attorneys Doug Baldridge, Danielle Foley, Jay Schaudies and Katie Wright for fighting for me and anyone who feels silenced by a sexual assault, and especially anyone who offered their support throughout this four-year ordeal and two-year long trial process. I acknowledge the privilege that I benefit from in life, in society and in my ability to shoulder the enormous cost of defending myself in a trial like this. My hope is to help those whose voices should also be heard. Therefore, I will be making donations in the near future to multiple organizations that help sexual assault victims defend themselves.
Less than an hour after the conclusion of the trial, Twitter was already aflame with celebration over the verdict, as well as Swift's powerful statement made in its wake. With her symbolic damages of $1, the artist brought national attention to the type of harm that's caused by sexual assault. Rather than bask in the glory of her win, Swift was quick to point out the factors that contributed to her case's victory, such as time, resources, and financial security.
In order to achieve this, Swift had to persevere through years of legal proceedings. As she pointed out in her statement, the costs associated with the lengthy battle would have counted some victims out before they had a chance to win. Her acknowledgement of such privilege shed light on another obstacle that sexual assault victims face: There is a high price to pay for justice that not every victim can afford.