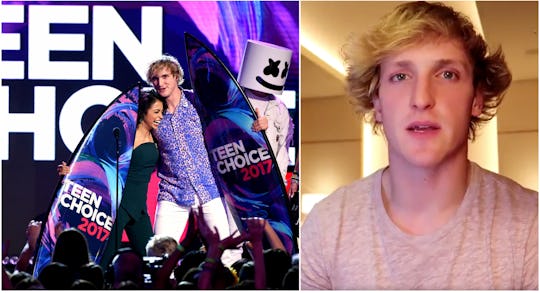 Kevin Winter/Getty Images Entertainment/Getty Images; Twitter
Teach Your Kids About Suicide, Otherwise YouTube Stars Like This Will
My friend's face greets me every morning, when I haphazardly open the fridge in search of a chilled water bottle. At least once a day my 3-year-old son points his chubby finger at the smiling face of mommy's friend, saying hi and asking questions about this and that. My friend is present in my pictures, his smile as alive as the day they were taken. But he's gone. My best friend lost his life to suicide.
Suicide can be difficult to talk about; we like to keep death at a distance in our culture, and society has created a hierarchy of death that attempts to dictate our reactions based on how people have lost their lives. But when Logan Paul, a "famous" YouTuber, walked into a Japanese "Suicide Forest" and filmed a victim for his channel — when he touched that victim's body — he desecrated the pain and fortified the stigma of suicide.
Twenty three families were forever changed while a man laughed and pointed.
Paul, whose millions of followers consist mainly of young kids and tweens, uploaded a video he had made while walking through the Aokigahara forest, what's known as the "Suicide Forest," in Japan. The footage included a dead body, with Paul and company laughing, smiling, and joking about the deceased. After outrage ensued, Paul took the video down and issued an apology of sorts, saying that he had made a mistake and "didn't do it for the views. I get views." With a reported 15 million YouTube subscribers, according to NPR, it would appear that Paul is correct: the man doesn't need to pull a sensationalized, heartless stunt to gain more followers. And yet, by disrespecting the body of a deceased individual with no regard for the person's family, friends, or humanity, that's exactly what Paul did.
He later apologized and removed the video, but there isn't a pseudo-apology in the world that can take back what this vlogger has done, and the message he has sent to his 15 million impressionable followers who look to him as a source of information.
According to the World Health Organization (WHO), each year approximately one million people die from suicide, which represents a "global rate of 16 people per 100,000 or one death every 40 seconds." The video Paul uploaded and later deleted was over 15 minutes long. That means that, while the vlogger was exploiting the death of a complete stranger, an estimated 23 people lost their lives to suicide. Twenty three families were forever changed, while a man laughed and pointed and diminished the true impact of suicide and how it changes the lives of those who have lost someone to it.
And perhaps what is most upsetting is that Paul knew what he would likely find while walking through that forest, camera in hand. With it's colloquial name, it's doubtful that Paul was banking on finding anything else, and yet his feigned surprise, and almost sickened delight, has sent a dangerous message to his followers: suicide is funny. Suicide isn't serious. Suicide makes someone "less than," and losing your life to suicide means you're no longer human, or worthy of human dignity and respect and reverence.
It is clear, from watching the video, that Paul has never been touched by suicide. But so many of us have, and the message we want to send others is one of prevention, not exploitation.
Discussing death is, in many ways, difficult, especially when addressing younger audiences who might not be able to grasp the concept entirely. And yet it is a burden that parents, older siblings, grandparents, uncles and aunts, and, yes, YouTube stars — with a substantial following consisting almost entirely of young adults — carry. Individuals like Paul have caught the attention of our children, of the youth of America and beyond, and with that fame comes a responsibility that cannot be downplayed or pushed aside or discarded when it's convenient.
According to WHO, suicide rates among young people have been increasing at the greatest rate of all age groups, to such an extent that young people are the single-most at-risk group for suicide in a third of all countries.
But you do not discuss "suicide awareness" or mental health issues by tuning into a mediocre white man in an alien hat, shamelessly laughing as he exploits a dead body. You do it with thoughtful dialogue, experts, individuals impacted by suicide, and science.
I'm laying the foundation for the day I tell my son about my best friend, and how he lit up a room and the way he looked at me and how much he loved his son and how his smile was infectious.
And that's why a thoughtful, informational discussion about suicide must happen, and in our own homes. At 3 years old, my son doesn't understand the concept of death, let alone what the word "suicide" means. But he knows that mommy's friend is someone he will never meet in person, and I tell him regularly that mom misses her friend and in a way that's everlasting. It still falls on confused ears, but I know I'm laying the foundation for the day I tell my son about my best friend, and how he lit up a room and how he looked at me and how much he loved his son and how his smile was infectious. And he'll learn about the scars on my friend's arm from self-cutting, and his bouts with depression, and the phone call that changed my life.
Because we do need to talk honestly about this with our kids. The National Alliance on Mental Illness (NAMI) says that silence contributes to the mental health stigma. Suicide will, inevitably, touch us all, but not in the dehumanized way that Paul imagines. I shudder to think of my son at an older age, watching a video like the one Paul uploaded, seeing that erasure of a person — someone with a family, and friends, and dreams, and fears, and loved ones who were probably looking for them and have now lost them forever. I cringe to think of that moment being the first moment my son was introduced to the topic of suicide or mental health disorders.
I don't want my son to learn from people like Paul. I don't want him to think that suicide is hilarious and people who lose their life to suicide should be laughed at.
I want him to know that mental health disorders, particularly depression and substance abuse, are associated with more than 90 percent of all cases of suicide.
I want him to know that suicide is the third-leading cause of death for young people ages 15-24.
I want him to know that males are four times more likely to die from suicide than females.
I want him to know that he's never alone in his thoughts or feelings, no matter how dark they may be, and that I will always listen to him without judgment.
I want him to know that anyone could be struggling with suicide, and to consider it is not a weakness but indicitive of an inner turmoil that can be treated.
I want him to know that for every individual like Paul, who would laugh at suicide and those who have lost their lives to it, there are those that will help and listen and be there for people who are suffering.
I want him to know about my dear friend, and how I break a little every time his smiling face flashes in front of my eyes; his warm eyes and red hair and chubby cheeks coming into plain view. I want him to know that sometimes I dream about my friend, and that on the hard days, if I close my eyes and think of him hard enough, I swear when I open my eyes I will see him standing in front of me.
The thought of Logan Paul laughing at him, and his death, makes me violently ill. Suicide isn't something you can upvote into acceptance, and a person with any level of empathy would know that you don't go looking for it. Instead, you put your energies into keeping your loved ones out of the forest.
If you struggle with depression or feelings of self-harm, please seek professional help or call 1-800-273-8255 for the National Suicide Prevention Lifeline.