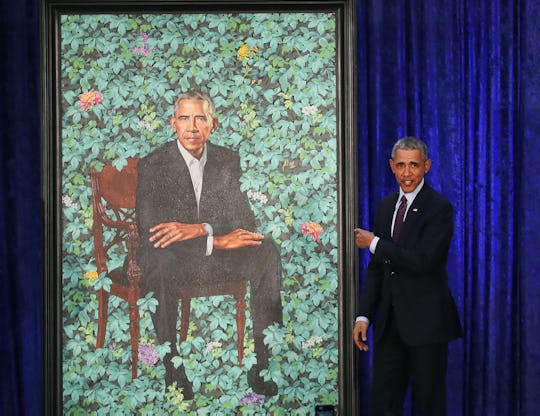 Mark Wilson/Getty Images News/Getty Images
Teachers: You Can Get Free Obama Posters For Your Classrooms & Here's How
President Obama's legacy is one that will last a lifetime, and he will be especially known for the influence that he and his wife, Michelle Obama, had on schools during his time in the Oval Office. And that's exactly why some teachers want the former POTUS to be a part of their classrooms. And the good news is, teachers can get Obama posters for their classrooms for free and it's so easy.
Earlier this year, the Obamas unveiled their portraits, which are now displayed in the National Portrait Gallery, according to USA Today. The portraits are an equalizer for all ages; older audiences can understand the time, dedication, and skill that went into the portrait, while younger kids can admire such beautiful pieces of art, especially when they honor a president who was able to accomplish so much. So, it's understandable why teachers might want a copy of Obama's portrait in their classroom.
In honor of the 50th birthday of the National Portrait Gallery, teachers can now request a free poster of Obama's portrait for their classroom. All they have to do is fill out this form on the National Portrait Gallery website and provide their school name and email address.
Then they'll be on the way to receiving their copy of the poster.
But the poster isn't just a poster. On the reverse side of the poster, it comes equipped with information about Obama, the artist of the portrait, and analysis questions for teachers to ask their students. This way, it can be more than decoration — it can be a lesson about the impact and importance that art has in capturing iconic figures like Obama. History teachers can teach students about Obama's historic presidency, according to Scholastic, while English teachers can take one of Obama's speeches to teach a lesson on how to write an effective speech.
There's no doubt that these portraits have had an impact on the younger generation. In fact, a photo of a little girl staring at Michelle's portrait in March went incredibly viral. Not to mention, the National Portrait Gallery saw a 300 percent increase in visitors one week after the portraits of the Obamas were hung on the walls, according to ArtNet.
But Obama's impact on education surpasses the impact that the portraits have had on others. The Obama administration encouraged states to embrace education policies, and in turn, the high school graduation rate reached an all-time high under Obama during the 2014-2015 school year, according to NPR. In addition, Michelle made it her goal to get school children active and eating healthy through her Let's Move! campaign, according to NBC News, regardless of their financial means. By doing this, Michelle was able to increase the number of accessible, healthy meals to students and make sure their nutritional needs were being met, as noted by NBC News.
What's more, 18 schools across the nation are named after Obama, according to Vibe.
It's important to note that this giveaway is for teachers only, since they have to provide their school email address and school name to the National Portrait Gallery. But everyone can get their hands on one of these posters — it just won't be free. The Smithsonian store sells these posters online for $25.99.