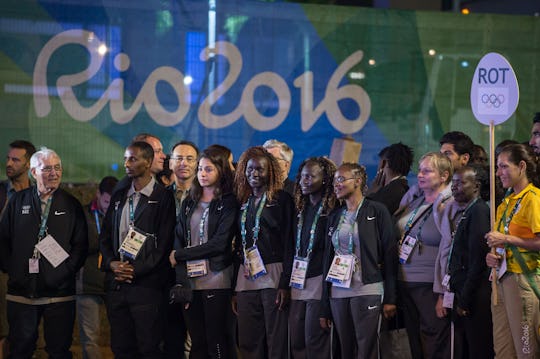 ED JONES/AFP/Getty Images
Team Refugees' Rio Opening Ceremony Entrance Is Inspiring
For the first time ever there is a team of refugees competing in the Olympics. Their official name is Refugee Olympic Team, ROT for short, and this year is there time to shine. The International Olympic Committee picked 10 athletes from over 40 candidates to be on the team. The athletes were chosen based on their sporting skill, verified refugee status, and personal background. With the ongoing refugee crisis, seeing Team Refugees' Rio opening ceremony entrance was inspiring.
Hailing from Syria, South Sudan, Ethiopia, and the Democratic Republic of Congo, these athletes come from some of the most troubled countries right now. Not willing to let their hard times stop them from achieving their dreams, the team of refugees marched into the ceremony holding the Olympic flag. One of the members of the ROT is Yusra Mardini, a 18-year-old Syrian swimmer who fled Damascus with her sister last year, according to CBS News. Mardini had to swim in the Mediterranean Sea to help steer herself and her sister to the Greek island of Lesbos. For Mardini this swimming isn't just a sport she does, it's something she had to use to survive.
The Team Refugees have received a lot of support, including the backing of President Obama, who is rooting for them alongside Team USA.
Team Refugee also includes Rami Anis (Syria), Yiech Pur Biel (South Sudan), James Nyang Chiengjiek (South Sudan), Yonas Kinde (Ethiopia), Angelina Nada Lohalith (South Sudan), Rose Nathike Lokonyen (South Sudan), Paulo Amotun Lokoro (South Sudan), Yolande Bukasa Mabika (Democratic Republic of the Congo), and Popole Misenga (Democratic Republic of the Congo).
The team is competing in a variety of events, including track and field races, the marathon, judo, and swimming. It'll be interesting to see how well the team does in their first ever Olympics games. For now their entrance was amazing and everyone will definitely keeping an eye out to see how well they do.
Whether or not any of the team's members come away with a medal, just seeing them have the opportunity to compete is inspiring, in it of itself.