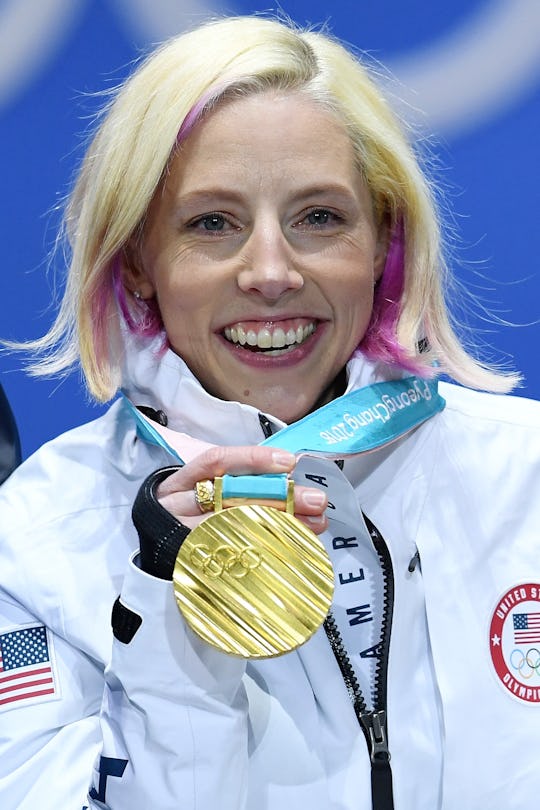 David Ramos/Getty Images Sport/Getty Images
Team USA's Only Mom, Kikkan Randall, Is Bringing Home A Gold From The 2018 Winter Olympics
At the 2018 Winter Olympics this year, Team USA's only mom, Kikkan Randall, won gold, as NPR reported, and she's definitely an inspiration to mothers all around the world. This is the 35-year-old's fifth time at the Olympics and she has won the United States' first cross-country skiing medal since 1976, combined with her teammate Jessie Diggins.
This is actually Randall's first Olympics competition since the birth of her son, Breck, who is now 22 months old, according to MSN. And, when talking about going from pregnancy to training again after Breck's birth, Randall told TIME, "My pregnancy went smoothly and in the spring of 2016 we welcomed our son Breck into our family."
She continued in the same TIME interview, "Within a month I got the clearance from my doctor and worked my way back into full time training. It took patience and the belief that I could work back into shape. I was pleasantly surprised by what a powerful and positive influence becoming a mother was on my ski racing."
Randall is an inspiration to working mothers everywhere, as well as other athletes. To go back to full-time Olympic training just one month after giving birth is truly remarkable. For that alone, she deserves a medal, right?
Last year, Randall was able to bring her family with her when she was on "the World Cup circuit." She told TIME:
We had an amazing time. I didn't always get the recovery time I was accustomed to, but I got to spend a lot of time with my son. The results panned out too. Just hours before I won a World Championship bronze medal, I was changing diapers and washing out bottles. Turns out baby chores are great for settling nerves.
So that's what Randall's secret to her great performance is... baby chores. According to The Washington Post, unfortunately for Randall, her baby boy Breck was not with her in PyeongChang to see her win, since he's currently staying with his grandparents while his mom competed. Prior to her big Olympic win, Randall told HuffPost:
I won't get to see him for a full month, which is going to be really hard because I've just gotten so adapted to life chasing around a toddler. But he is doing great with his grandparents ... I know he's in a good place, so now I can focus on what I need to do.
When Randall isn't competing for the Olympics, she lives in Anchorage, Alaska with her son and her husband Jeff Ellis. She and Ellis have similar travel schedules because he works for the International Ski Federation.
While Randall's life revolves around her family, she has also been sure to strategic plan her family life around skiing, just the same. She recently revealed to The Washington Post that she intentionally positioned her childbirth halfway between two Olympics and during a non-World Cup year. Randall also told the Boston Globe:
In a sport like cross-country skiing where it takes so long to get to the top, you really just start getting to the fun part when you're kind of in your prime childbearing age. It was something where I didn't want to have to make a choice either way. I was curious to see if I could do it and thankfully I'd had an amazing career to that point and I was going to be happy no matter what happened. I've come back surprisingly strong.
Randall was also sure to add that she loves being a mom. It's so empowering to see a woman who is able to live out her dreams and put just as much passion into motherhood.
Check out Romper's new video series, Bearing The Motherload, where disagreeing parents from different sides of an issue sit down with a mediator and talk about how to support (and not judge) each other's parenting perspectives. New episodes air Mondays on Facebook.