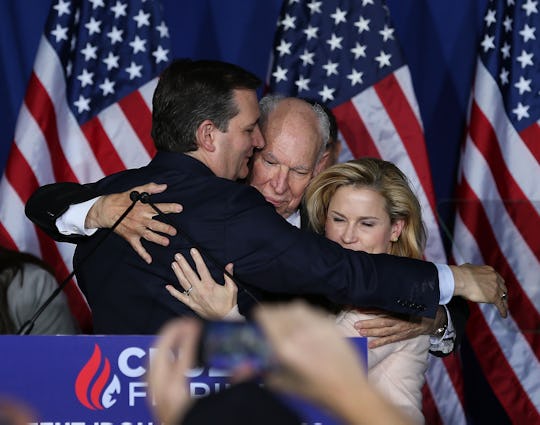 Joe Raedle/Getty Images News/Getty Images
Ted Cruz Concession Speech GIF Is Awkward As Hell
Ted Cruz dropped out of the GOP presidential race on Tuesday night, sending shockwaves through the Republican party and beyond. Of course, no one was paying attention to any of that. This awkward-as-hell Ted Cruz concession speech GIF shows exactly why.
First, a little background: Cruz went into Tuesday's big Indiana primary behaving like a candidate on a buzzing high — although, from a strictly logistical point of view, none of that made sense. Prior to Tuesday's showdown, a RealClearPolitics aggregate placed Cruz at just under 30 percent support to rival Donald Trump's 45 percent. Even a last ditch effort to revive his campaign by announcing former GOP rival and HP CEO Carly Fiorina as his running mate did little to boost morale among the ranks.
By Tuesday evening, as polls closed in Indiana, it was clear that the chess board moves had made essentially no impact on Cruz's dwindling success. Falling tragically short of Trump's whopping 53 percent finish in the Hoosier State, Cruz took to the rally podium that evening to break the bad news.
"From the beginning, I said I would continue on as long as there was a viable path to victory," Cruz said on Tuesday night. "Tonight, I am sorry to say, it appears that path has been foreclosed. We are suspending our campaign — but hear me now: I am not suspending my fight for liberty."
Then, Cruz's crowning moment: a cringe-worthy elbow in the face to his wife, Heidi, which social media and news outlet NowThis captured for the masses.
Unsurprisingly, Twitter pounced. Within minutes of the unintentionally hilarious gaffe, an account with the name Ted_Cruzs_Elbow had been created. "To the face!!! You can't stop me!!! I'm Ted Cruz's Elbow," the anonymous user tweeted.
Others were quick to poke fun at the moment as well. "America is Heidi Cruz's face and Trump is Ted's elbow," one Twitter user joked. "Ted Cruz with the elbow. Jim Ross with the call," another tweeted, referencing the semi-retired WWE announcer.
Despite the fact that the evening was likely a somber one for those who had lent their support and efforts to the Cruz campaign, the uncomfortable slip-up at least gave everyone a reason to laugh — perhaps the last for a while.