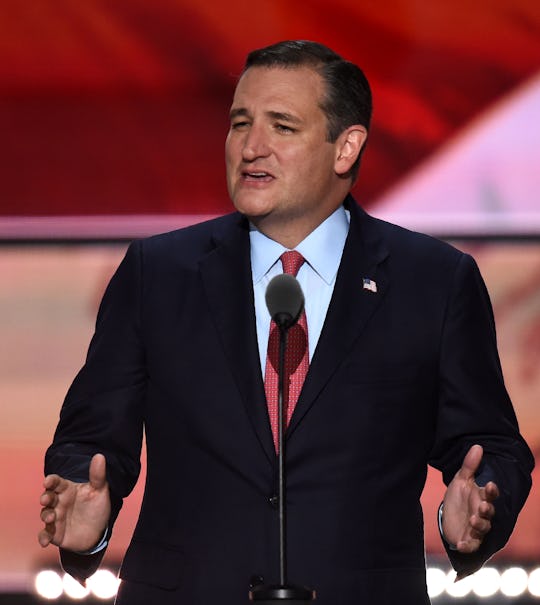 TIMOTHY A. CLARY/AFP/Getty Images
Ted Cruz Didn't Mention Trump In His Speech & Everyone Noticed
There has been a very "pro-Trump" vibe in first three days of the Republican National Convention in the Cleveland arena, but not everyone was chanting for Republican presidential nominee Donald Trump. On Wednesday night, Texas Sen. Ted Cruz failed to mention Trump in his speech — and pretty much everyone noticed. The former presidential hopeful stopped short of endorsing of his former rival as well, saying Americans should vote for their "conscience" instead.
The senator was booed and heckled by the crowds after saying almost nothing about Trump when it was his chance to speak at the Republican convention.
"If you love our country and love your children as much as I know that you do," Sen. Cruz said during his speech on Wednesday night. "Stand and speak and vote your conscience. And vote for candidates up and down the ticket who you trust to defend our freedom and to be faithful to the constitution."
During his speech, he never told Americans to vote for Trump, or any specific candidate, and ended his speech without endorsing the Republican presidential nominee. This definitely didn't go unnoticed on Twitter, as people promptly responded to the senator's move —positively, negatively, and hilariously — soon after he was booed off the stage.
Some congratulated Sen. Cruz for not endorsing Trump and understood why he chose not to.
Others were disappointed that Sen. Cruz failed to end his speech with an endorsement and called his choice "political suicide."
Some, on the other hand, really didn't think it was a big deal and found the humor in all of this political drama.
The omission of an endorsement may seem shocking, but just last month Sen. Cruz still wasn't ready to endorse Trump, even after he agreed to speak at the convention.
The Texas senator and the New York businessman don't have the happiest past — Trump has called Cruz "Lyin' Ted" and Cruz has called Trump a "pathological liar" — so perhaps this lack of an endorsement is not all that surprising.