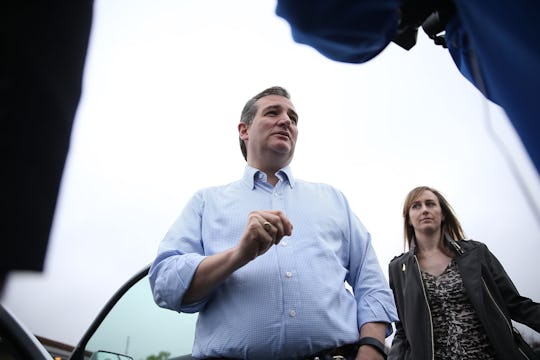 Joe Raedle/Getty Images News/Getty Images
Ted Cruz Dropping Out Memes Will Help You Dry Your Tears Over Trump Being The Nominee
After Donald Trump won Indiana with more than 50 percent of the vote on Tuesday, Texas Sen. Ted Cruz dropped out of the presidential race. He didn't go quietly, though, and the internet didn't let him either. The best Ted Cruz dropping out memes will bring you much-needed joy after realizing that Trump — the man who called Mexicans rapists and drug dealers — will actually be the Republican presidential nominee in 2016.
The speech he gave announcing that he was leaving the race was reserved and definitely not happy, according to CNN:
We left it all on the field in Indiana. We gave it everything we've got but the voters chose another path. So with a heavy heart but with boundless optimism for the long-term future of our nation, we are suspending our campaign.
But that's not the way he felt before and during the Indiana primary... Actually, before the primary, Cruz got a little, well, saucy while talking about Trump to reporters, according to CNN:
He is proud of being a serial philanderer ... he describes his own battles with venereal diseases as his own personal Vietnam.
This man is a pathological liar, he doesn't know the difference between truth and lies ... in a pattern that is straight out of a psychology text book, he accuses everyone of lying.
Whatever lie he's telling, at that minute he believes it ... the man is utterly amoral. Donald is a bully ... bullies don't come from strength they come from weakness.
And Twitter couldn't let him go quietly, either. People came up with some pretty amazing memes to commemorate the sad occasion. (Yes, it's a little sad because now this means Trump will actually be the GOP nominee.) Here are some of the best Cruz dropping out memes.
People had to see if there were any more Zodiac killer clues:
Of course there were plenty of references to Cruz's "basketball ring" comment:
And crying Jordan, because so sad.
And Spongebob memes, because, of course:
What is the GOP going to do now?
But some people just weren't sad at all, and they knew Cruz likely wasn't that sad either (because, seriously, WTF is this race?):
It's clear that, though this means something pretty terrible for the GOP and the 2016 general election, people aren't too sad that Cruz is gone. And, if he's being honest, Cruz probably let out a huge sigh of relief after giving that speech.