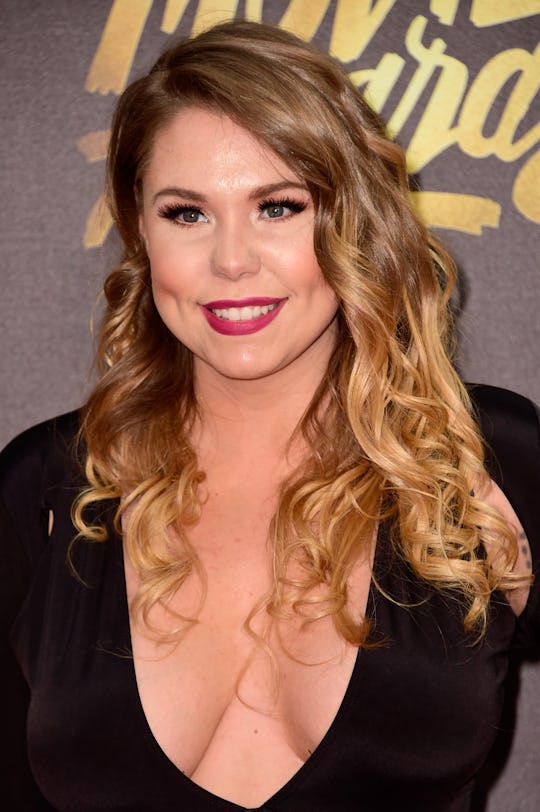 Frazer Harrison/Getty Images Entertainment/Getty Images
Single Moms Can Relate To 'Teen Mom 2' Star Kailyn Lowery's Co-Parenting Dilemma
Welcoming a third child into the world is no easy feat, and having a support system makes a world of difference. And one prime example of one of these challenges is Teen Mom 2 star Kailyn Lowry, who opened up about how she hopes to co-parent her newborn with his biological father. In an interview with RadarOnline, the reality TV star shared that she believes that "every child deserves their dad." And the 25-year-old certainly has her hands full managing her three boys, but she told the website that she trusts that her new baby (whose name has not yet been released) will have his dad by his side, too.
"I'm hopeful. I'm positive he'll be around," Lowry said of her son's father, Chris Lopez, according to RadarOnline. Despite their not being together anymore, Lorwy said that Lopez was there for his son's delivery on Aug. 5 and that he stayed at the hospital until he was able to drive Lowry home. "I think he has been as supportive as he can," Lowry told RadarOnline, noting that beforehand she didn't know if he'd be able to make it when she went into labor.
Before her third son's arrival, Lowry shared on her blog that she wasn't sure what part Lopez would play in her son's life. "I think I'm most worried about the changes ahead but also that I will have this baby 24/7 by myself with no help," she wrote, insisting: "I'm going to be a single parent from the beginning!" But according to more recent statements, this no longer appears to be the case.
In her candid words to RadarOnline this week, Lowry defended Lopez's past behavior, explaining: "He does the best to his ability even though it doesn't necessarily meet the standards of what everyone else expects of him. I think people need to keep that in mind." Hopefully, Lopez will rise to the occasion, and help to support his newborn.
Lowry's first child, Isaac Elliot, was born to then 17-year-old Lowry and her boyfriend at the time, Jo Rivera. Her second son, 3-year-old Lincoln, was born to Lowry and her ex-husband Javi Marroquin in 2015 — four years later. Marroquin and Lowry started co-parenting together post-divorce, but it's been a relatively recent development. In July, however, Marroquin tweeted in support of Lowry, saying that the two are "one team."
On Monday morning, Lowry tweeted: "Reality set in- a house full of boys means my house will probably forever have toilet seats left up & smell like wet towels!" Though Lowry definitely has a lot on her plate, she'll hopefully have Lopez's help through it all. Like she said — her child deserves it.