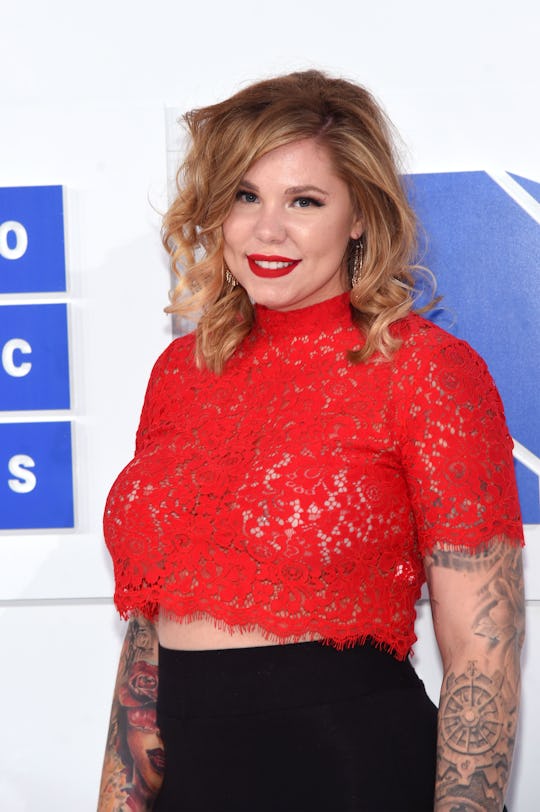 Jamie McCarthy/Getty Images Entertainment/Getty Images
'Teen Mom 2' Star Kailyn Lowry Explains Why She Still Hasn't Named Her New Baby
Two weeks on Earth and still no name? Such is the life of one MTV baby. In a recent tweet, Teen Mom 2 star Kailyn Lowry revealed why she hasn't named her baby yet. According to her Twitter feed, she has asked friends to weigh in on the naming but hasn't had any luck thus far. And as this reality mom shows us, naming a baby can be hard.
Lowry is a mother of three children, author of two books, and star of one hit reality show. All of this aside, her most recent addition to the family has yet to be named. Up until now, her youngest son has been referred to as "Baby Lo," probably thanks to his last name being Lopez, after his father, according to In Touch Weekly.
Baby Lo joined Lowry's two other sons, 7-year-old Isaac and 3-year-old Lincoln at 3 a.m. on Saturday, Aug. 5. Since then, the mother-of-three has been keeping the world apprised of her name search situation via Twitter. One such update let fans of the little family know that Baby Lo is still sans given-name.
In her post-birth interviews, Lowry explained the lack of moniker by providing background on the chaotic and exhausting experience that was Baby Lo's birth. She told Radar Online that there was no time for an epidural, or even for the doctor to make it to the birth:
My water broke at 1:30 in the morning and I got to the hospital by 2:40 and then I had him at 3 a.m. Labor happened so fast. Literally from start to finish was two hours.
Radar Online has also reported Lowry's inability to decide on a name. In her interview with the outlet she said: "We don't have a baby name at all and we don't have any ideas either."
The MTV star initially asked Twitter followers to help her choose from a small pool of names — Murphy, Ripkin, Griffin, Nixon and Silas — but she has since revealed that these names aren't really working for her. "Everything we thought we liked doesn't fit him," she told the website.
Don't mistake Baby Lo's namelessness as a sign of lack of mama-loving. Lowry has written at length about her excitement and love for the new baby in her blog. Her birth announcement blog post was practically spewing anticipation:
This is the baby I thought I wasn't sure if I could have. I know this isn't an ideal situation but I know everything will be okay. And like I say in my book — with a little bit of hustle and heart, I can and I will survive anything. Having another child is something I am so happy about and I just can't wait. My boys are so excited, those who love me are so excited, and I hope that everyone can just be happy for me during this time.
For now, Lowry is focusing on all the right things. She is bonding and spending quality time with her baby. Choosing the right baby name is a hard decision and one that should come naturally. All Twitter votes aside, Lowry will know when she finds the right one.