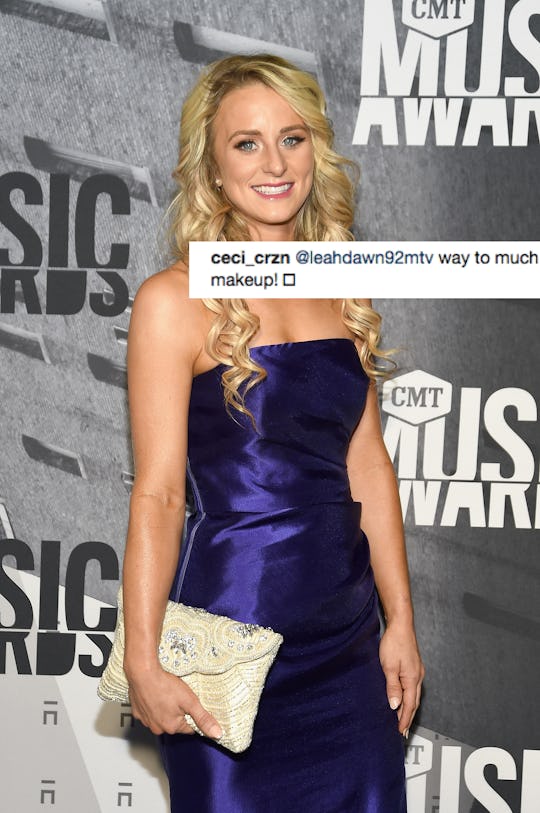 Rick Diamond/Getty Images Entertainment/Getty Images
'Teen Mom 2' Star Leah Messer's Daughter Wore Makeup, & Fans Are *Not* Happy About It
Similarly to many parents with young kids, Teen Mom 2 star Leah Messer uses social media to keep loved ones updated about her family's milestones. And on Wednesday, Messer shared a sweet snap to Instagram of her 8-year-old daughter, Gracie, at a cheerleading competition. Sounds harmless, right? Sadly, the answer is no. Apparently, many fans are upset because Leah Messer's daughter wore makeup at the competition. As one might expect, the reasons for the outrage are pretty problematic.
Fans of TM2 probably already know that Messer struggled with some personal issues in 2015. Messer's struggle became so difficult, in fact, that she lost custody of her twin girls, Ali and Gracie. The good news is Messer and her ex-husband, Corey Simms, reached a 50-50 custody agreement in 2016 and now the family is doing incredibly well. So, it's really no surprise that Messer wants to share her newfound happiness with her Instagram followers — especially where it concerns her beloved Ali and Gracie. "There isn't anything in the world I love more than being their Momma," Messer captioned a picture of Gracie and Ali hanging out at the cheer competition. By the looks of it, the family is having an awesome time.
Although this should have been a happy moment, some fans felt compelled to bash Messer for allowing Gracie to experiment with makeup.
"Too much makeup," one person commented. "Yuck."
"Less is more with the MAKEUP MAMA," someone added.
"Omg the makeup in insane," a follower commented on another photo from the event.
But wait — the drama doesn't stop here. For whatever reason, David Eason — former TM2 castmate and Jenelle Evans' husband — decided to chime in on the controversy. "I can't believe Corey would allow her to wear that much makeup," Eason said in a now deleted comment, according to a screenshot uploaded to the TeenMomOGandTeenMom2 Reddit forum. Eason did not immediately respond to Romper's request for comment.
Sheesh. Where does one even begin here?
Obviously, Gracie is simply experimenting with makeup in this photo and there's nothing *wrong* with a child engaging in playful expression. It's also important to note that it's common for young cheerleaders to wear this amount of makeup at competitions. As one person pointed out, makeup is pivotal to the judging process. "Here we go with all the makeup comments," the informed person said. "She's a cheerleader on a STAGE with a lot of LIGHTS. The judges have to have able to see them smile and their facial expressions for points."
See, you learn something new everyday.
But what has me especially riled up — and other commenters — is Eason's remark about Simms. For starters, Simms is not Gracie's keeper. Yes, he's her dad and he has all the right in the world to be involved in parenting decisions, but he's not the final authority as to whether she wears makeup. Suggesting that Simms can either "allow" or deny Gracie the right to wear makeup implies ownership, which is clearly problematic. It goes without saying that the whole overprotective dad thing often reinforces sexist ideas.
One person wrote in response to David, according to Instagram:
It's none of your business, you're just trying to keep relevant when no one cares what you think or have to say. @leahdawn92mtv doesn't need permission from anyone, and you trying to impose your misogynistic ways on others isn't going to work. We are no longer in the caveman era and you need to learn to take care of your own before inserting yourself in others business! Leah, you are doing an incredible job raising your girls and you never need to explain yourself to anyone, ever. Keep being the great mom you are and to hell with anyone who doesn't like it!
Additionally, Messer and Simms are proud co-parents who make decisions together. Suggesting that Simms and Messer make parenting decisions independently is offensive to all the hard work they've put into their relationship throughout the years.
As for Messer, she's not sweating all the backlash. "I take opinions lightly, cause I don't give a fuuuuuu," Messer penned on Wednesday via Twitter. "ESPECIALLY, if you're irrelevant to my life."
Yep, it's clear Messer isn't bothered by Eason and her other critics. As Messer pointed out, the negative opinions are completely irrelevant to her life. Touché.
Check out Romper's new video series, Bearing The Motherload, where disagreeing parents from different sides of an issue sit down with a mediator and talk about how to support (and not judge) each other's parenting perspectives. New episodes air Mondays on Facebook.