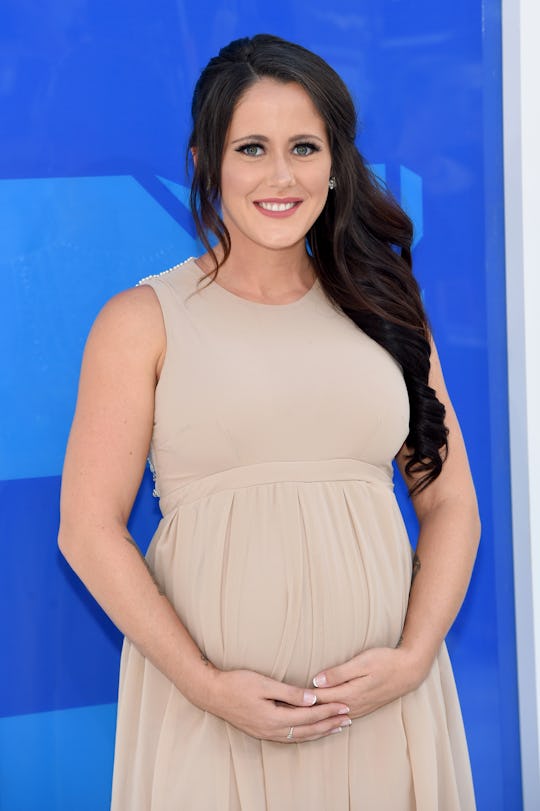 Jamie McCarthy/Getty Images Entertainment/Getty Images
'Teen Mom 2's Jenelle Evans Welcomes 3rd Child
Jenelle Evans, the love-able MTV star has been looking very pregnant and ready to pop any minute for weeks. Well, it's finally happened! Teen Mom 2's Jenelle Evans welcomes her 3rd child, and shared the big news on Instagram with her fiancé David Easton. The mom looked healthy and truly happy in the sweet, candid shot that looks like it was taken just after the baby was delivered.
The caption on the image was simple: "And she has arrived." People reported Ensley was born on Tuesday at 10:40 a.m. Eastern Time. The brand new baby girl is named Ensley Jolie Eason, and the well wishes have already started flowing in from her fans. Ensley joins two big brothers, Jace, who is 7 years old, and Kaiser, who is just 2 years old. Evans had both boys with her former flame, Nathan Griffith, according to People.
Evans spoke exclusively with E! News and said the delivery was a breeze and, like any new mom, took the opportunity to gush about her new baby. "We are doing great," Evans told E! News "It was a quick delivery and only had to push twice. We are already in love with her, and she's so beautiful!"
It's nice to see Evans looking so happy and relaxed. Evans told In Touch in 2015 she wished she could have a baby girl, and now she's here. "I definitely want to try one more time for a little girl. But of course, that's not any time soon."
Here's Ensley Jolie's big Instagram debut.
On Jan. 7, both Evans and Eason celebrated the birth of their baby girl with a co-ed baby shower, which Evans also shared bits about on Instagram.
"Thanks to @jamielynnwilshire and @itsashlibee for throwing the best baby shower ever!" Evans captioned the shower group shot. "It's awesome to have such a great group of friends that come from hours away to celebrate my new baby girl's arrival soon! Tonight was great and wouldn't want it any other way. Now the 3 week countdown begins Miss. Ensley!"
Of course there has been plenty of drama for Evans over the past few months. Most recently Eason was sentenced to 60 days in prison for violating a protective order stemming from a domestic violence dispute from a previous relationship, according to US Magazine. According to the New Hanover Clerk of Court's Criminal Office, Eason has appealed the sentence, US Magazine reported. Eason's representative did not immediately respond to Romper's request for comment.
Evans announced her pregnancy in August after a car accident report accidentally revealed the Teen Mom star was pregnant again. She was trashed on social media, prompting this response from Evans on Instagram, according to ET Online:
I don't understand what is 'disappointing' or 'sad.' Why not ask if I'm ok from the car accident?! Why not be concerned about my health?! I want privacy. All of you disgust me. It's all about gossip these days… Funny someone else comes out with news they are pregnant and the world is overjoyed.
The post was later deleted, according to ET.
From the way she looks today in her Instagram baby reveal, the new mom has plenty of joy to go around now. Congratulations to the whole family.