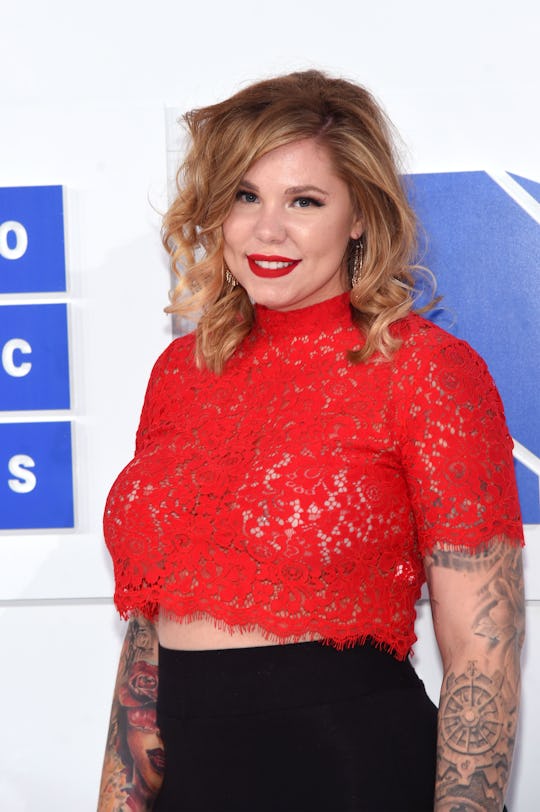 Jamie McCarthy/Getty Images Entertainment/Getty Images
Kailyn Lowry Asked Fans To Name Her Baby, & Twitter Is Here For It
If you're done having babies, but still full of ideas for cute names, an MTV reality star is looking for a little help. Teen Mom 2's Kailyn Lowry asked fans for help naming her baby on Twitter, and since she's due any day now, time is of the essence. "I like last names for first names, how do we feel about Murphy for baby lo?" the best-selling author and recent college graduate posted on Sunday, along with a poll (the results were 78 percent against the idea). Later that evening, she shared a screenshot implying that she'd been Googling how long she has to come up with a name after the baby is born.
The search result excerpted an article citing a 60 day limit, but that was actually from an Australian website; according to NPR, U.S. birth registration laws vary by state. Lowry's state, Delaware, gives parents only 10 days to file a birth certificate, so she needs all the help she can get. She's been encouraging fans to reach out with suggestions ever since announcing her third pregnancy on her blog in late February, closing out her post with a request for tweets. In March, she solicited baby names during an Instagram live video, according to In Touch, but turned down the name "Holden" because it could be a target for puns. Fans are still eager to help, though.
But Lowry is apparently on her own coming up with a name; in April, she retweeted a woman who complained about finding a baby name that her husband agreed with, and added, "Girl I don't need anyone to agree with me and I still can't decide."
In a now-deleted blog post two days later, In Touch reported that she wrote that she'll have the baby "by myself with no help. I'm going to be a single parent from the beginning." In early May, Lowry confirmed that the baby's father is her former classmate, Chris Lopez, after a particularly rude tabloid headline implied that the child's paternity was in question.
Ever since Lowry announced she's expecting, she's been relentlessly concern-trolled by the gossip sites, which claim that she's "heartbroken" about Lopez's lack of involvement, and "praying" for him to have a change of heart. One article even referred to her situation as a "Pregnant & Alone Nightmare."
But there's no evidence that Lowry ever wanted or expected Lopez to be a coparent; in her announcement, she wrote, "Please know this was a choice I made." And in a statement to Radar Online days later, Lowry's publicist made it clear that although Lowry was no longer with the father, and his future involvement in the child's life was uncertain, "This was Kail's choice and she is 100% happy." Lowry is perfectly capable of raising her children without help — that is, except for coming up with that name. Good thing her fans have her back.